The Fair at the PNE has been a West Coast tradition for over 101 years now. And while the Labour Day long weekend may mark the start of school, it just wouldn't feel right to welcome September without a little nod to the North Shore folks who helped make things come alive at the best rock 'n roller coaster, farm'n fun attraction that has been a deep fried family favourite for over a century. Yee haw!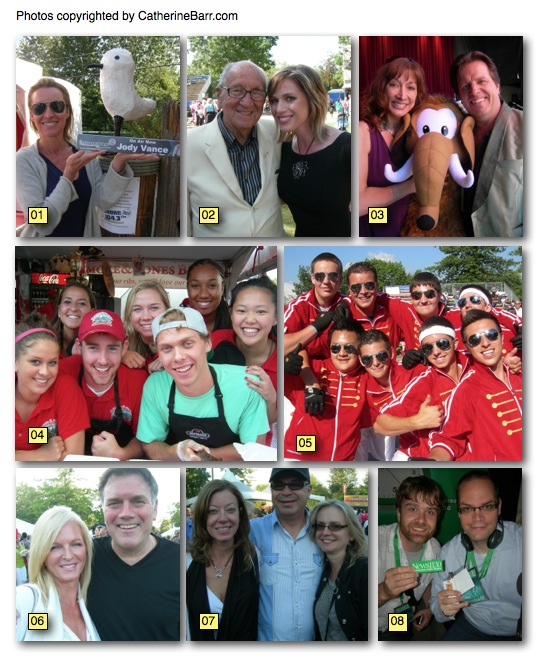 01 – She'll always be a North Van girl at heart. CBC sports gal and Shore 104.3 radio host Jody Vance broadcasts live from her radio booth with the help of the Shore seagull mascot.
02 – At 93 years young, the incomparable Dal Richards is still going strong. Seen here with Breakfast TV host and jazz singer Dawn Chubai, Richards still performs two shows daily at the fair and says he'll be back next year too.
03 – Dal Richards Orchestra's famous lead singer Diane Lines and North Shore businessman/drummer Gary Mussatto look like they've spent some of their off-stage time on the midway and are now taking home the big prize.
04 – The Fair's first annual Rib Festival Competition meant big line-ups at all the award winning booths, but none was longer than at North Vancouver's Smoke and Bones BBQ pit led by chef Tom Markby (green shirt).
05 – Dubbed the PNE Drumbeats, the boys from Chilliwack's Sardis Secondary School could take on the best college drumlines in the world with their fabulous rhythms and snappy choreography. My fair favourite!
06 – Private eyes, we're watching you! We usually spot Whitecaps president Bob Lenarduzzi and wife Deanne strolling around Edgemont Village, but here they're on their way to see the live concert by Daryl Hall and John Oates.
07 – Shopping around for some fun and fast food are Park Royal Shopping Centre's VP Rick Amantea and his wife (left) plus guest Kathy Barr (no relation).
08 – Manning the News1130 radio booth with live hits on the hour are Shane Bigham, left, and North Vancouver's own John Ackermann.
– –
By Catherine Barr – Sep 1, 2011
Also as seen in print in the North Shore Outlook Newspaper on Sep 08, 2011