Get out your date books because it's time for Part 2 of my look ahead to 2013 and all the best Vancouver gala events and charity fundraisers. So as you get ready to pencil in your glam plan remember the following: 1 – Every little bit helps when it comes to charity giving. 2 – Even if you can't give money, you can give your time as all organizations need volunteers and helpers. 3 – Silent auctions make a great place to shop for gifts. 4 – All men look great in a tuxedo. 5 – There's no such thing as too many sparkles. Thanks everyone and don't forget to send me your upcoming event details at www.catherinebarr.com – the photos are on me!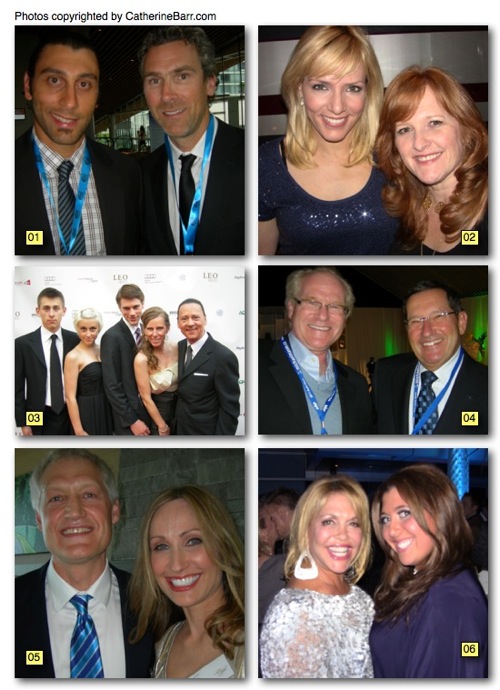 01 – Vancouver Canucks hockey heroes Roberto Luongo, left, and Trevor Linden are both members already, but who will be inducted into the BC Sports Hall of Fame next? Find out at the Banquet of Champions gala dinner on Sep 19, 2013.
02 – CTV news anchor Keri Adams, left, and Whistler Film Festival executive producer Shauna Hardy Mishaw both take turns behind the mic hosting the summer gala fundraiser. Look to attend the gala sometime this June, or mark your calendar for the film fest itself on Dec 4-8, 2013.
03 – North Vancouver's Daroshin family always knows how to rock the red carpet as part of the famous Leo Awards gala. Known as the Golden Globes of BC, producers Walter Daroshin and business partner Sonny Wong will bring this year's biggest celebrity party to town again this year for their 15th anniversary celebration during late spring 2013.
04 – Ferrari, Porsche, Jaguar, Lamborghini, Mercedes, BMW and more. If you're a car guy, like North Vancouver auto writer Andrew McCredie, left, or BMW dealership owner Brian Jessel, then you'll want to book Mar 26-31 off for the Vancouver International Auto Show which returns this year to the Vancouver Convention Centre.
05 – Last year, Heart and Stroke Foundation BC & Yukon CEO Diego Marchese and gala chair Carey Smith did a wonderful job of putting together the Heart of Gold gala. Mark May 24th on your calendar for this year's 9th annual event as this one always sells out quickly.
06 – Face the World socialite and Army and Navy heiress Jacqui Cohen, left, is one proud lady now that daughter Kasondra Cohen-Herrendorf has followed in her footsteps with her own charity empire. Face of Today will hold their 4th annual gala on Feb 22, 2013 and, judging from years past, it will again be one of Vancouver's most glittery affairs.
– – –
By Catherine Barr – Jan 7, 2013
Also as seen in print in the North Shore Outlook Newspaper on Jan 10, 2013

– – –