Get out your social calendar and let's plan to party. As the new 2014 year begins there is lots of fun to be had. Many regulars are back, including wine festivals, art galleries and theatre openings. And there's lots of places for live entertainment and food too. Pick the ones you like for dressing up, or down, but best of all, there are lots of chances to help give to charity. So let's get the gala gears going and remember to stay in touch and save me a smile.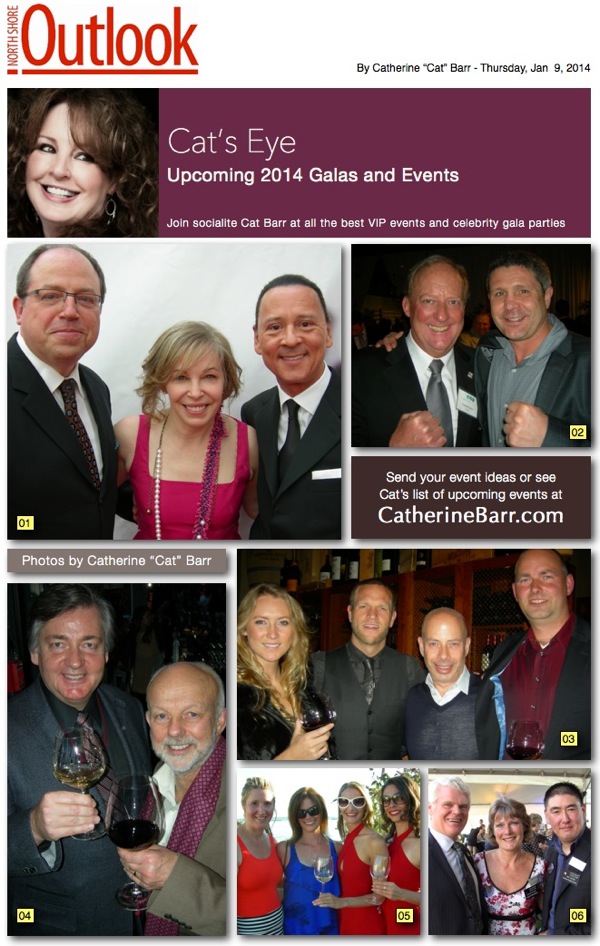 – – –
01 – Comedians Brett Butt, left, and wife Nancy joined Leo Awards producer and North Vancouverite Walter Daroshin on the red carpet this past spring. Look for Leos to be handed out again early June 2014.
02 – Putting up a fight for kids in sport are Craig Knapton, left, and boxer Manny Sobral. The Athletics for Kids (A4K) gala will be held on May 2, 2014 at Hollyburn Country Club and includes live sanctioned boxing bouts.
03 – Whistler's Cornucopia is one of the year's best food and wine events and now extends to two weekends starting the second week in November 2014. Notables like Olympian Ashleigh McIvor, hubby and Whitecaps star Jay DeMerit, Hy's Steakhouse owner Neil Aisenstat and Foxtrot Vineyard's Gustav Allander were all on hand at one of last year's best dinners.
04 – A toast to the Vancouver International Wine Festival by executive director Harry Hertscheg, left, and Bard on the Beach's leading man, Christopher Gaze. This year France is the featured country and events run from February 24 – March 2, 2014.
05 – West Vancouver's Harmony Arts festival has grown in so many ways and now includes fun wine and food nights as well as the week long art show and live entertainment stages. Harmony Arts manager Christie Rosta, left, joined Marnie Wilson and House Wine hostesses Michaela Morris and Michelle Bouffard for a perfect night on the pier last year. Mark your calendars for August 1-10, 2014.
06 – North Vancouver's Lynn Valley Days is an amazing community day event and gala dinner evening held at the end of May 2014. Last year, Peter Haigh, left, from North Shore Rescue, Lynn Valley Days committee member Gillian Konst and Lynn Valley Community president and Lions Club member Eric Miura celebrated in style.
– – –
By Catherine Barr – Jan 6, 2013
Also as seen in print in the North Shore Outlook Newspaper on Jan 9, 2013
– – –

– – –