It's the measure of journalistic excellence in British Columbia and more. The Webster Awards – named after B.C.'s most famous and feisty newsman – was held last week at the Westin Bayshore hotel in Vancouver. The room was a who's who of the news media industry and included scores of well-known writers and broadcasters working in print, radio and television in British Columbia. Being nominated for a "Webster" is an honour – but winning one gives you membership in a very exclusive and revered club . Among the nominees and winners were many recognizable North Shore faces. Also, a big nod to Glacier Media executives who were among the VIPs and who are now also the new owners/publishers of our own Outlook newspaper. Congrats to everyone involved!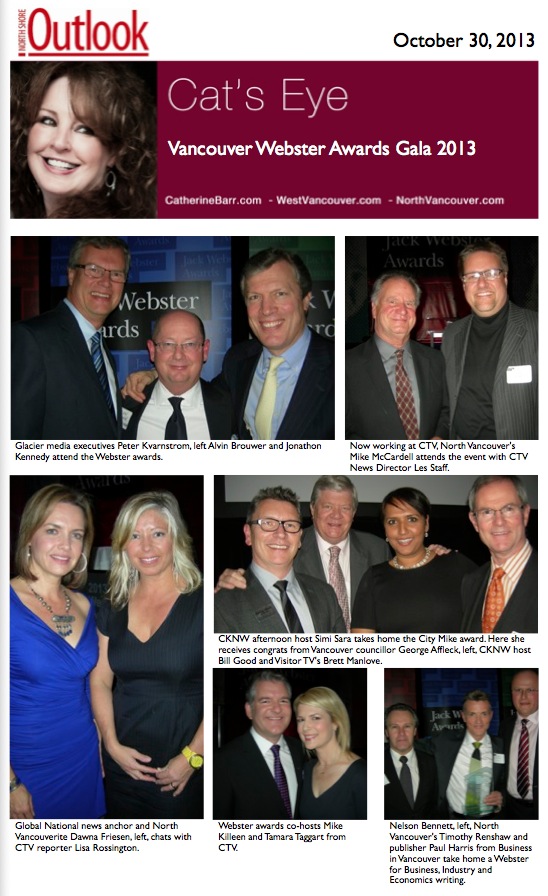 01 – Glacier media executives Peter Kvarnstrom, left Alvin Brouwer and Jonathon Kennedy attend the Webster awards.
02 – Now working at CTV, North Vancouver's Mike McCardell attends the event with CTV News Director Les Staff.
03 – Global National news anchor and North Vancouverite Dawna Friesen, left, chats with CTV reporter Lisa Rossington.
04 – CKNW afternoon host Simi Sara takes home the City Mike award. Here she receives congrats from Vancouver councillor George Affleck, left, CKNW host Bill Good and Visitor TV's Brett Manlove who lives here on the North Shore.
05 – Webster awards co-hosts Mike Killeen, who hails from North Vancouver, and Tamara Taggart from CTV.
06 – Nelson Bennett, left, North Vancouver's Timothy Renshaw and publisher Paul Harris from Business in Vancouver take home a Webster for Business, Industry and Economics writing.
By Catherine Barr
October 30, 2013 – and as seen in print in the North Shore Outlook newspaper on Nov 7, 2013