The prestigious Vancouver Waldorf school (located in North Vancouver) offers a private education like no other. With emphasis on the arts, the students here get a chance to develop their talents to their full potential – often with amazing results. This past week at Centennial Theatre, friends and family helped celebrate these achievements during their annual Festival of the Arts. Congratulations to everyone involved.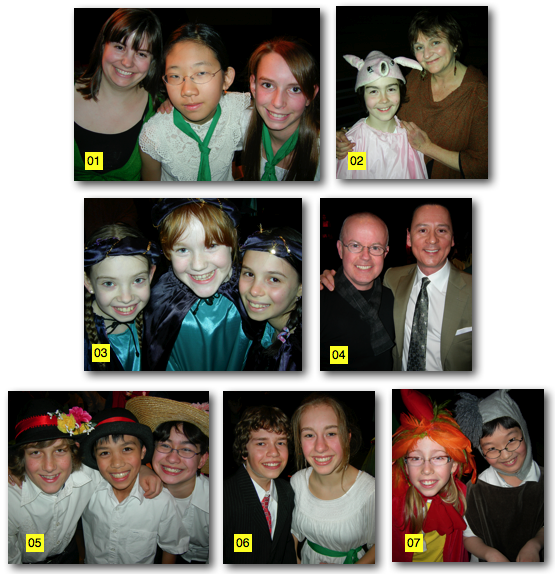 01 – Music/orchestra teacher Robin Streb, left, prepares with Grade 7 violinist Jessica Ahn and cellist Emily Powers. 
02 – Getting ready for his lead role on stage, Hamish Campbell dons his pig wig with Grade 3 teacher Abegael Fisher-Lang.
03 – Valhalla bound – Grade 4 students Lauren Ingram, left, Jane Harvey and Sonia Vinogradsky portray the pretty mythical Valkyrie handmaidens.
04 – Comedian/actor Gary Jones, left, joins school director/parent and Leo Awards film producer Walter Daroshin.
05 – Grade 6 students Jeremy Fish, left, Diego Balce and Brogan Ho dance in time as Morris dancers.
06 – The brother and sister duo of Konrad Lasocki and Ola Lasocka stay in tune with things as part of the school orchestra.
07 – Keeping things in order down on the farm as actors in their French play are Rhiannon Pierce as the rooster and Edward Baik as the donkey.

March 17, 2009 (published March 26, 2009)
Catherine Barr's column appears every Thursday in the North Shore Outlook – 60,000 copies delivered to homes in the North Vancouver and West Vancouver area If you wish to submit an event for coverage please fill in the form found here or email Cat at info@catherinebarr.com.