If Twitter is the new way of sharing information, then a "Twestival" may be the new way of raising money. Started in London in 2008, this nouveau idea is now much more than a fad. With over 200 cities participating, it has become an annual social night out event that proves you really can think globally and act locally. So big congratulations go out to Vancouver's elite tweeters who helped raise over $8,000 at last week's YVR Twestival on behalf of local charity Beauty Night Society – an organization that helps give self-esteem to women living in poverty. And speaking of annual events, North Vancouver's Waldorf School held their spring Festival of the Arts last week at Centennial Theatre. Showcasing students from Grades 2 – 12, it was a night of music, drama and handicrafts on display for friends and family to enjoy.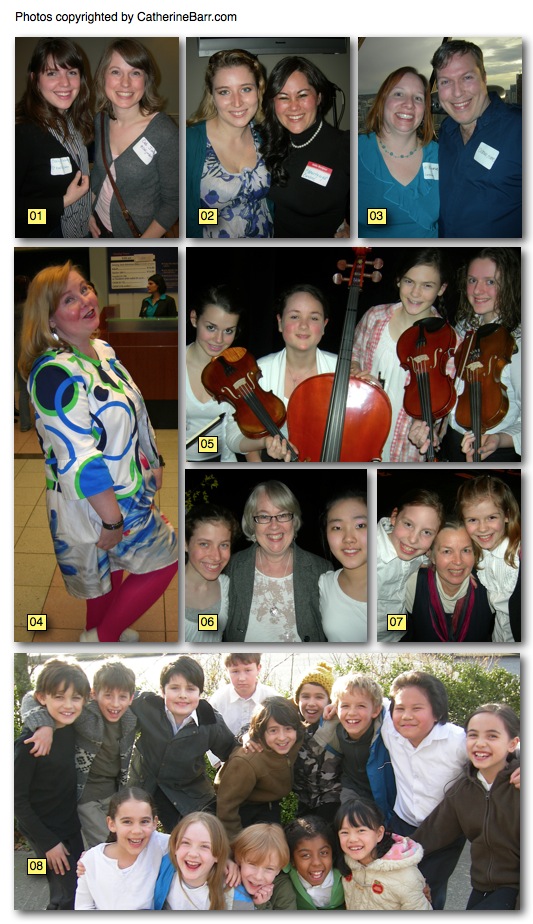 01 – Checking in guests at the bottom of the Vancouver Lookout are Twestival volunteers Baily Molotsky (@bailycara), left, and Cadi Jordan (@cadijordan) of Jordon Consulting.
02 – Head Twestival organizer Rebecca Bollwitt (Miss604) chats with Beauty Night Society founder Caroline MacGillivray (@BeautyNight) as they raise money for this worthwhile cause.
03 – Pouring the wine at the Twestival fundraiser is Leanne Froese (@lfroese) alongside organizer Marc Smith (@amuse_events) of Amuse Events Consulting.
04 – Complete with hot pink tights, her colourful outfit matches her famous colourful tweets. Twestival volunteer Lorraine Murphy (@raincoaster) helps out at the check-in desk.
05 – The girls from the Grade 7 and 8 strings ensemble tune up backstage before the Waldorf Festival of the Arts show.
06 – Waldorf School grade 7 teacher Mary-Anne Taylor preps for the show alongside students Taylor Norris, left, and Michelle Kang.
07 – Teacher Ute Grimm give last minute instructions to Grade 3 students Michaela Norris, left, and Nissa Kachina as parents arrive for the Festival of the Arts show.
08 – Lights, camera, action! It's all smiles before the show for the class of Waldorf School as they arrive for the annual Festival of the Arts show.
– –
By Catherine Barr – March 24, 2011
Also as seen in print in the North Shore Outlook Newspaper on Mar 31, 2011