Lamborghinis and lipstick helped round out August as two great events helped us remember all the luxurious little things in life. First up, party promoter Craig Stowe and friends were making heads turn in the street with a preview of their Luxury Supercar weekend.Come on out on Sep 12 and 13 to the Edgewater Casino to see a Palm Springs like show of "suber" cars like Ferrari, Roll Royce, Lamborghini, Porsche, Jaguar and more. Next, Heather Huntingford and her gal pals were celebrating the relocation of her fabulous Kiss and Makeup store in Park Royal village with a summer Patio Party that featured local celebs, makeovers, cocktails and cupcakes.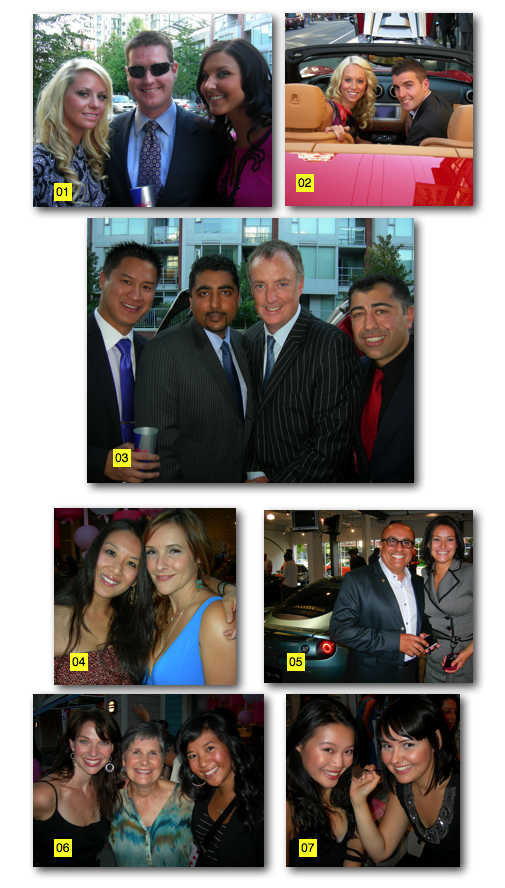 01 – Chris Graham, Manager of North Vancouver's Jim Pattison Lexus, poses with models Silesia Sutherland, left, and Jaimie Gregory at the Supercar lauch.
02 – The North Shore's own Amanda Hamilton and Jay Bell sit in the front seats of a racing red Ferrari in preparation for the Supercar weekend. Go to <www.luxurysupercar.com> for tix.
03 – Edgewater Casino sponsors the Supercar weekend which promises to be a first for Vancouver. From left: Russell Li – Edgewater event manager, Paul Ahluwalia – Edgewater VP and GM, Craig Stowe – organizer and Marco Dehghani – Edgewater manager.
04 – E-Talk's Lainey Lui, left, and Kiss and Makeup owner Heather Huntingford welcome all the ladies to the Kiss and Makeup Patio Party in Park Royal Village.
05 – Weissach owner Asgar Virji and assistant Lerina Koornhof show off the new Lotus Evora at a private launch event. Look for them at the Supercar weekend also.
06 – Pretty promotions gal Tanis Tsisserev, left, chats with Margaret Huntingford and May Globus over cocktails and cupcakes at Kiss and Makeup.
07 – It's makeover magic time for actress Caroline Chan, left, as she gets the treatment from makeup artist Savannah Olesen at the Patio Party.
– by Catherine Barr
August 27, 2009 – published in the North Shore Outlook newspaper on Sep 10, 2009