Time for this town to get a little crazy. Vancouver Pride is upon us and the parties have already started. First up is the TD Bank Group's opening reception party. Hosted for the fourth year by the amazing folks at the TD team, and headed up Mauro Manzi, senior vice president of TD – Pacific Region, it was time to kick up your heels and hoist a glass at the Junction Pub last night where guests were treated to food, fun, outdoor bartenders and live entertainment by TD's own signature drag diva Carlotta Gurl. Happy Pride everyone!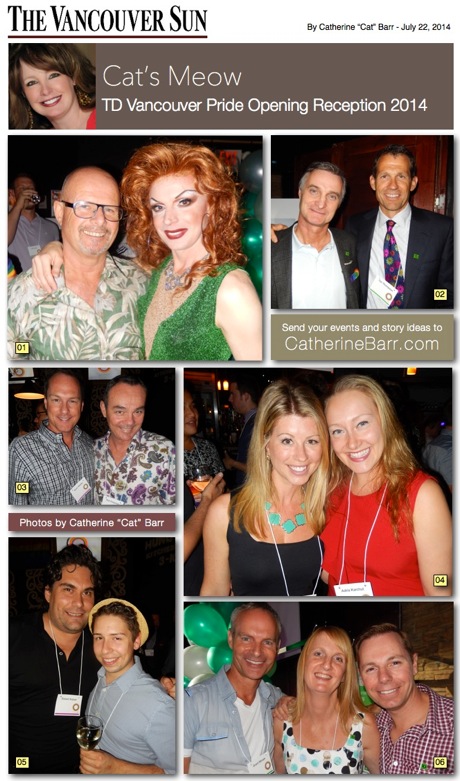 – – –
01 – Mikey Black cuddles up to TD's own darling diva Carlotta Gurl who looked the total part in a fabulous green-with-envy full length sparkle gown.
02 – Posing as part of TD's signature sponsor team are Fraser King, left, VP and marketing manager, and Tim Thompson, senior VP of TD Bank Group.
03 – Taking in the festivities are Kenn Hamlin, left, director of community affairs for Telus, and Rob Ferguson, group director Canada West at Tiffany & Co.
04 – Loving Spoonful's Jackie Patton, left, and Adria Karchut.
05 – Famous for his drag persona Joan-E, Robert Kaiser, left, and Scott Mackay are among the VIPs.
06 – Taking to the stage with some welcoming words are Grant Minish, left, regional manager LGBT, Leah Iverson, community relations TD Bank Group and Jeff Meerman, manager corporate public affairs TD Bank Group.
– – –
By Catherine Barr – July 22, 2014
Also as seen in the Vancouver Sun Newspaper
– – –
By Catherine Barr




www.CatherineBarr.com  |  www.WestVancouver.com  |  www.NorthVancouver.com
– – –