The Vancouver Playhouse International Wine Festival, which officially starts March 23, got an early start last week at two separate events. First, it was a six-course, 17 glass dinner at the Vancouver Club as the Grandi Marchi dinner welcomed delegates and winemakers from Italy. Next, at The Shore Club, it was the official Festival Toast which took place prior to the opening night performance of "Toronto, Mississippi". Don't miss the next one – tasting tickets on sale at <playhousewinefest.com>.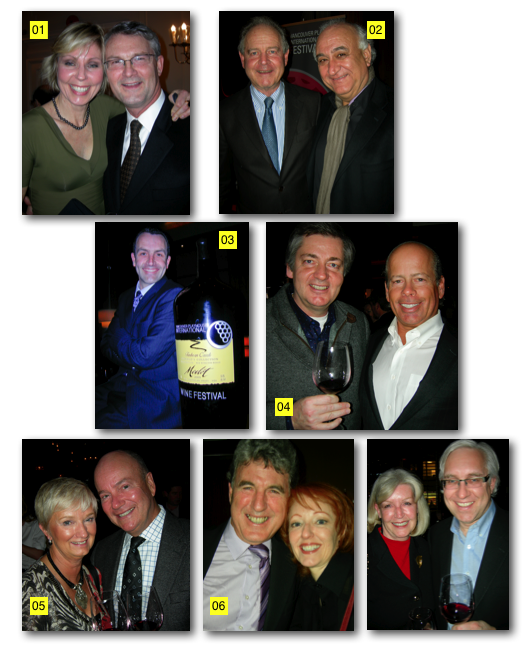 01 – West Vancouver's Jan and Mark Ballard attend the Grandi Marchi dinner taking home an auction bottle or two.  02 – Grandi Marchi co-chair Umberto Menghi, right, dines with winemaker Piero Antinori whose 600 year old winery was the talk of the night.  03 – Can you drink 27 litres of wine? Tinhorn Wines' Mark Butschler hopes you can by bidding on his special festival bottle.  04 – Harry Hertscheg, Executive Director, raises a glass to festival sponsor Daivd Aisenstat, of Hy's, Gothams and The Shore Club fame. 05 – West Vancouver's Jim and Milena Robertson are both on the wine committee for the upcoming festival. 06 – Festival favourites Tony Beatty and gala chair Vicki Prince-Wright look forward to the big night. 07 – Playhouse Theatre chair Darlene Howard chats with upcoming chair Jeff Schulz.

March 4, 2009 (published March 12, 2009)
Catherine Barr's column appears every Thursday in the North Shore Outlook – 60,000 copies delivered to homes in the North Vancouver and West Vancouver area If you wish to submit an event for coverage please fill in the form found here or email Cat at info@catherinebarr.com.