Wimbledon, London 2012 Summer Olympics, and now Hollyburn! If you're a tennis fan, then the last few weeks have certainly been a feast for the senses. Still nothing beats seeing it live right from home court. Such was the case last week as the 10th Annual Odlum Brown Van Open Tennis tournament took place at West Vancouver's Hollyburn Country Club. An elegant opening night reception was held on the club's sun filled patio deck to welcome dignitaries and VIPs. Hosted by Floyd R. Hill, the evening also included the opening ceremonies court side, opening round matches and a special appearance by tennis great Martina Hingis.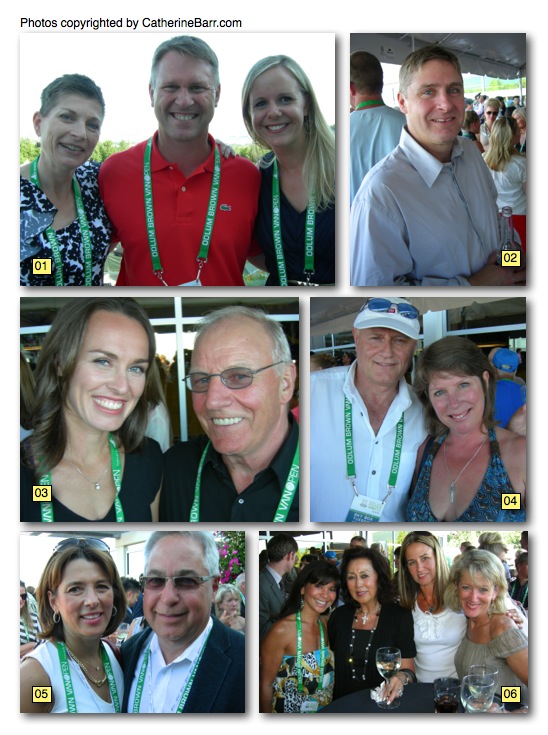 01 – Odlum Brown staffers and tennis volunteers Marian Bayley, left, and Sasha Evans help check-in VIPs like Hollyburn Country Club CEO Ed McLaughlin.
02 – Hollyburn tennis pro Tony Macken takes in the activities and gets ready for the opening ceremonies.
03 – Swiss tennis sensation Martina Hingis, seen here with reception host/sponsor Floyd Hill, also made an appearance on the court – first as part of this night's fashion show, then as an exhibition match competitor.
04 – Bill Park and Kirsten Nash enjoy some cocktails and conversation during the opening reception.
05 – This tournament is always a big success thanks to supporters like Cheryl and Terry Hooge.
06 – Organizing various events behind the scene, Carlota Lee, left, joins guests Lily Lee, Kym Catliff and Julie Urquhart on this opening night.
By Catherine Barr – Aug 1, 2012
Also as seen in print in the North Shore Outlook newspaper on Aug 9, 2012