This week marks the 10th anniversary of the Vancouver International Dance Festival. On until March 21, the festival includes performances by some of the city's best dance groups at various locations around town. Part of the Vancouver 2010 Cultural Olympiad, the opening night gala featured live auction items, performances and more. Get more information at . Also, check out the party action backstage with a few extra celebrity events herein.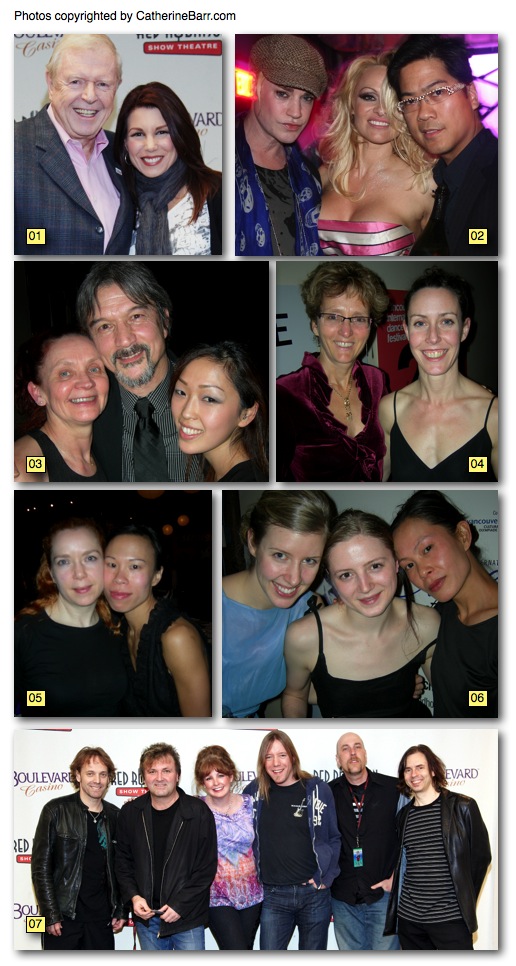 01 – It's always great to see North Shore singer Lee Aaron perform her many hits. Now a mom, she rocked out with music hall-of-famer Red Robinson back stage before her show at his namesake theatre/casino last week.
02 – The last of the Olympic party famous faces to hit town was BC born model/actress Pamela Anderson. Seen here with fashion stylist Richie Rich, left, and Dom Perignon's Roberto Garcia, this flashy fashion show won't soon be forgotten.
03 – VIDF producer Barbara Bourget, left, executive director Jay Hirabayashi and publicist Crystal Kwon celebrate at the opening night gala.
04 – North Vancouver's Margot Gram, left, and Kokoro lead dancer Kristine Richmond check out the auction items at the VIDF gala.
05 – Look for dancers Jennifer McKiinley, left, and Carolyn Chan throughout week at the Vancouver International Dance Festival.
06 – With talent to spare, Ellen Luchkow, left, Molly McDermott and Ziyian Kwan can dance the night away at the VIDF gala.
07 – A little backstage interview last week with the 80's rock band Honeymoon Suite helped transport me way back to my early teen years. Are they over already?
– –
By Catherine Barr, March 12, 2010
As published in print by the North Shore Outlook newspaper on March 18, 2010