The 31st Annual Vancouver International Film Festival wraps up this week after 16 days of memorable films, fun and faces. Known for being a festival of substance, the event featured over 380 films from all over the world organized into series like Canadian Images, Dragons & Tigers, International Shorts and Cinema of our Time. Still, no festival is complete without a few red carpet parties and premiere galas. Check out a few of the familiar faces below as Vancouver's more famous locals came out to celebrate.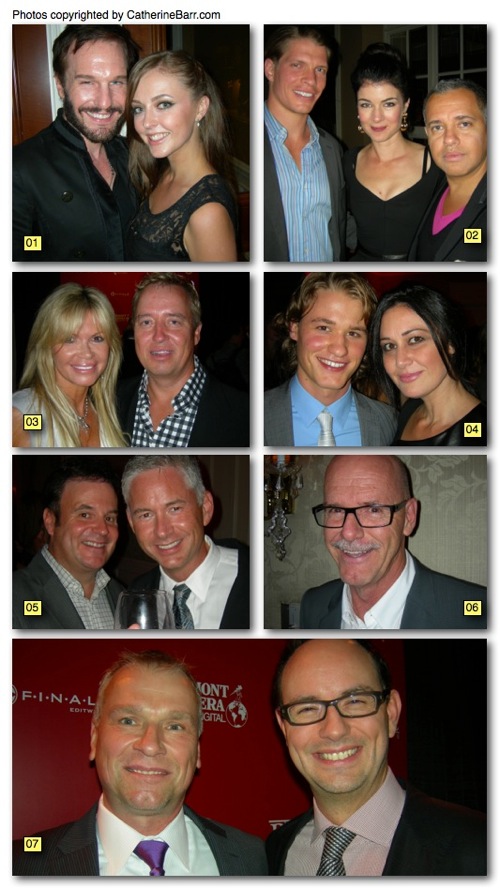 01 – Walking the red carpet at the Lighthouse Pictures & JetSet Crew film party are actors Michael Eklund, who can be seen in "The Hive" with Abigail Breslin and Halle Berry, and Katharine Isabelle, star of the horror/thriller "American Mary".
02 – Vancouver's sweetheart, actress Gabrielle Miller, of Corner Gas fame, joins visiting actor Alexander Cendese, left, and producer Alfonso Quijada.
03 – West Vancouver's Cathy Negus-Kruse and actor Duke Stevenson enjoy all the red carpet action at the Sutton Place Hotel event.
04 – Young and handsome, look for newcomer Dylan Playfair, seen here with agent Carrie Wheeler, in a new endeavour called "Mr Hockey" featuring Gordie Howe.
05 – "Travel Guys" host Darren Parkman, left, jokes around with friend and actor Paul Duchart who filmed "Charlie St Cloud" with Zac Efron here on the North Shore.
06 – You know him best as Constable John Constable from "The Beachcombers", but actor Jackson Davies is truly a local legend with more than 46 television series/shows to his name.
07 – Sponsors of the big Red Carpet film party at the Sutton, Bridge Studios' GM Ron Hrynuik, left, and Lighthouse Pictures' Jamie Goehring pose for pics with all the big names.
– – –
By Catherine Barr – Sep 29, 2012
Also as seen in print in the North Shore Outlook Newspaper on Oct 11, 2012
– – –

– – –