The 29th Vancouver International Film Festival has been taking place all over the city for the last two weeks with over 370 films from over 75 different countries. Truly a place to watch the world, the emphasis here is on artistic merit over that of Hollywood hype. Local actors, directors and more are also given the spotlight including North Shore influenced films like "Mighty Jerome" (the story of local African-Canadian track-and-field star Harry Jerome) and Sara McIntyre's "Two Indians Talking". One of the best opening night galas was held last week at West Vancouver restaurateur Jack Evrensel's fabulous Cin Cin restaurant with many famous faces in attendance.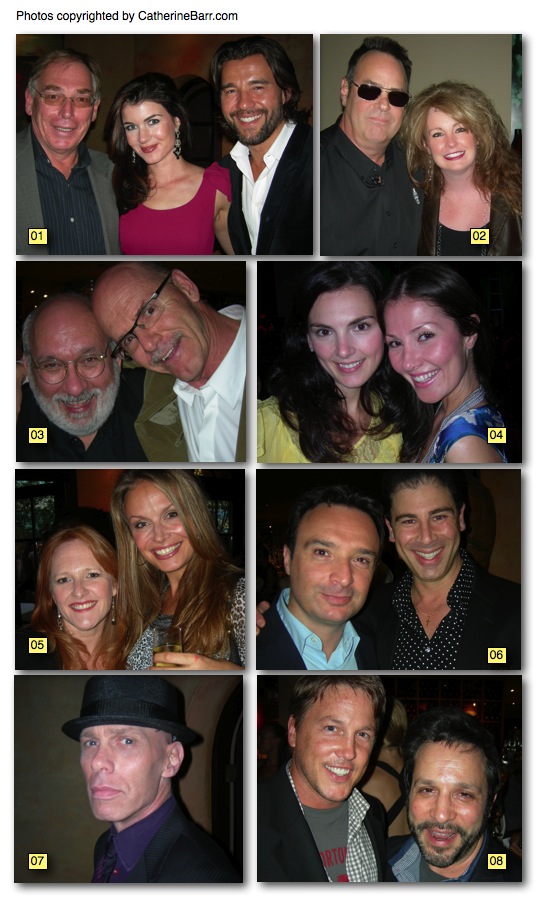 – –
01 – Actors Gary Chalk, left, (of Stargate SG-1, MacGyver, Watchmen fame) chats with fellow famous Vancouver celebs Gabrielle Miller (Corner Gas, Robson Arms) and Steve Bacic (Andromeda, CSI Miami, Crash and Burn).
02 – Ghostbuster/Blues Brother Dan Aykroyd jumped behind the bar at the Four Seasons Hotel in Vancouver to pour everyone, including me, a shot or two of his new Crystal Head Vodka – just in time to toast the opening of the film festival.
03 – Going back as far as "The Beachcombers" and then some, veteran stage and screen actors Jay Brazeau, left, and Jackson Davies are always popular with the fans.
04 – "Two Indians Talking" producer Rhonda Dent, left, and former North Shore Outlook reporter turned PR gal Jennifer Maloney take in the scene at the VIFF opening night gala.
05 – Whistler Film Festival co-founder Shauna Hardy Mishaw, left, cuddles up to Leo award winning actress Sonya Salomaa (Black Eyed Dog, The Guard).
06 – John Cassini, left, and Silvio Pollio take up position both in front of the camera and behind as actors/producers/directors in the hilariously funny premiere of the screwball comedy "Guido Superstar: The Rise of Guido".
07 – Lock up your Kryptonite, local actor Mackenzie Gray will be tapping his super powers as the new Lex Luthor on the TV series "Smallville".
08 – Vancouver born actor Lochlyn Munro (Night at the Roxbury, Daddy Day Camp) and actor/director Benjamin Ratner have worked with big name Hollywood heavies like Will Farrell, Rebecca De Mornay and Clint Eastwood, to name a few.
– –
By Catherine Barr – October 1, 2010
Also as seen in print in the North Shore Outlook newspaper on October 14, 2010