Porsche, Mercedes, Range Rover, Ferrari, Jaguar – all the big names are there. The Vancouver International Auto Show, the premier automotive showcase in Western Canada, is on all this week at BC Place Stadium. The event started last Monday night with a fabulous black-tie "sneak peek" gala in support of Special Olympics and featured a diamond draw, scavenger hunt and the "Salespersons of the Year" awards. The event continues until Sunday.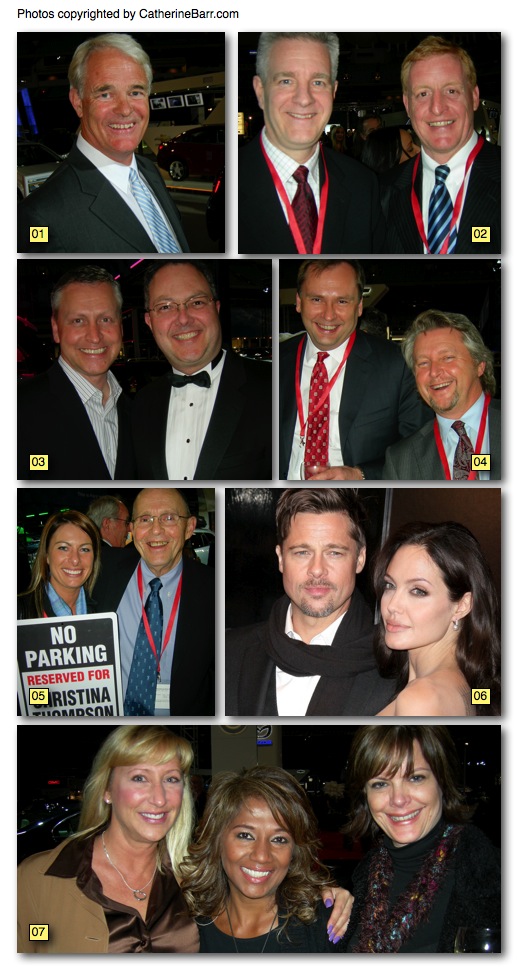 01 – Money man Michael Campbell, brother to BC Premiere Gordon Campbell and Chair of BC Special Olympics, delivers a gracious thank you speech to sponsors.
02 – Carter Auto Family president Bill Mitchell, left, and the North Shore's own James Carter are among the evening's VIP guests.
03 – Jeff Thiessen, left, congratulates New Car Dealers' president and CEO Blair Qualey for doing a great job as gala host and awards MC.
04 – CKNW sales manager John Saboe, left, and Corus Entertainment Vancouver Radio GM Jim (JJ) Johnson mingle with the award winners and hosts.
05 – Christina Thompson takes a bow as top saleswoman for Aston Martin with MCL Motorcars's John Chesman.
06 – Meet celebrity power couple Angelina Jolie and Brad Pitt in person at a private VIP autograph session this weekend by picking up some free tickets – simply email me at cbarr@westvancouver.com before 5pm today to reserve a pair (april fools).
07 – Allwest Insurance's North Shore gals Dana Voynovich, left, and Devina Zalesky join Carla Radiuk on the red carpet.
– –
By Catherine Barr on March 29,2010
Published in print by the North Shore Outlook on April 1, 2010
– –