Night at the Aquarium, a fabulous black-tie fundraiser held at the Vancouver aquarium, is one of this city's best known galas and this year, it made as big a splash as ever. Raising over $353,000, the night included live music, silent auction items, Ocean Wise food provided by some of the city's best restaurants and more. Guests were delighted to see the dolphins in action as they jumped and frolicked for the folks as did the beluga whales who were more than happy to help up the bids during the live auction. The evening ended with an even bigger surprise as musician Jim Cuddy, of Blue Rodeo fame, showed up to sing for the crowd.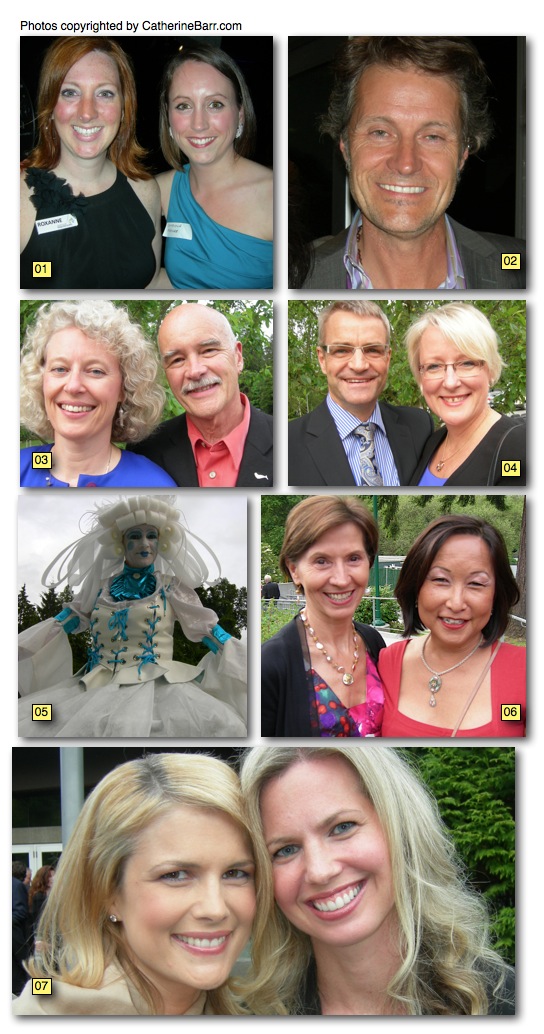 01 – Vancouver Aquarium PR gals Roxanne St. Pierre, left, and Catriona Maguire greet guests and invited VIPs as they enter the event.
02 – Blue Rodeo's Jim Cuddy surprises everyone by stopping by for a song. His new album "Skyscraper Soul" is due out on September 27 this year.
03 – Vancouver Aquarium president Dr. John Nightingale and wife Jacquie provide an elegant welcome and shake everyone's hand upon entering.
04 – Vancouver Aquarium executive committee chair Margot Spence and Etienne van Eck are among the dignitaries in attendance this night.
05 – Magical, whimsical and very spectacular, the characters from Public Dreams Society walk on stilts among the guests helping make the evening extra exciting.
06 – West Vancouverite and Leone's fashion owner Maria Leone attends the event with friend Patricia Chew.
07 – Tamara Taggart, of CTV News fame, seen here with friend Erin, is a delightful MC for the evening and doesn't mind sharing the stage with the dolphins and whales.
– –
By Catherine Barr – June 23, 2011
Also as seen in print in the North Shore Outlook Newspaper on July 7, 2011