If the good old hockey game, is the best game you can name, then tonight is the night you've been waiting for all summer as the Vancouver Canucks return to the ice for their 2011-2012 season opener. In honour of hockey's return, a group of invite-only North Shore kids and their parents got a head start on the puck drop at West Vancouver's Hollyburn Country Club. Fan Zoo Memorabilia hosted a day of Canuck player fun that included a shoot out with goalie Cory Schneider, stick lessons from Alex Burrows and a locker room/coaches chat with Mason Raymond and Maxim LaPierre. An after-party and autograph session made sure no fan left empty handed as the Canucks' young guns were only too pleased to smile, shake hands and give every kid two minutes for excellent sportsmanlike conduct.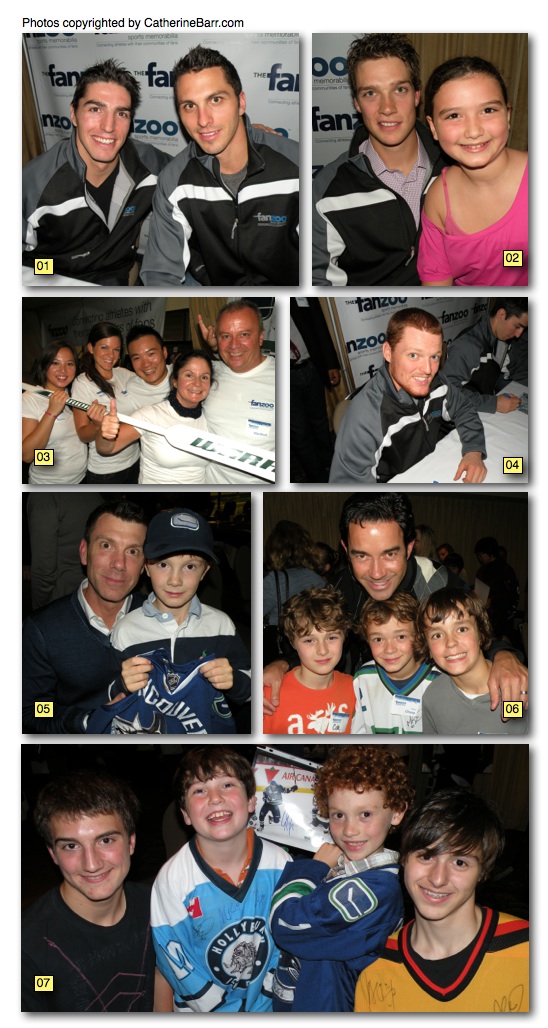 01 – With the game-winning, game seven, OT goal against Chicago still ringing in his ears, Vancouver Canucks' Alex Burrows, left, and teammate Maxim Lapierre are ready to lace 'em up and spring back into action.
02 – Pretty Genevieve Calamo scores one for the girls as she gets an autograph from one of her favourite Canucks – namely Mason Raymond.
03 – The gang from Fan Zoo Memorabilia are ready to root for the home team again in 2011-2012 as they send their best for another great Canucks season.
04 – We're counting on ginger-haired goaltender Cory Schneider to generate even more excitement between the pipes this year as he again backstops with teammate Roberto Luongo.
05 – Luke Emri and his dad Bob are among the lucky few who now have an authentic autographed Vancouver Canucks jersey.
06 – It's a boys night out for sure as dad Jason Soprovich waits for autographs with sons Cole, right, Chase, centre, and friend Cole Shepard to see the Vancouver Canucks.
07 – I'm hoping these Hollyburn hockey players will save me an autograph when they make it to the NHL. From left: Michael Spouge, Jack Spouge, Jack Hemsley and Trevor Smith.
– –
By Catherine Barr – Oct 3, 2011
Also as seen in print in the North Shore Outlook Newspaper on Oct 6, 2011