It was cocktails, jazz, champagne and music at the Dilawri Group's recent 2014 Bentley Flying Spur launch event. Held at the amazing Shangri-La Hotel, the event included invites for some of Vancouver's best known businessmen and luxury car lovers. The theme was "The Great Gatsby" and came complete with Veuve Cliquot, canapes, cocktails, live music by the Max Zipursky trio and, of course, the star of the show – the 2014 Flying Spur. Hosts from both Bentley Vancouver and MCL Motor Cars were on hand to welcome guests as everyone toasted the occasion in style.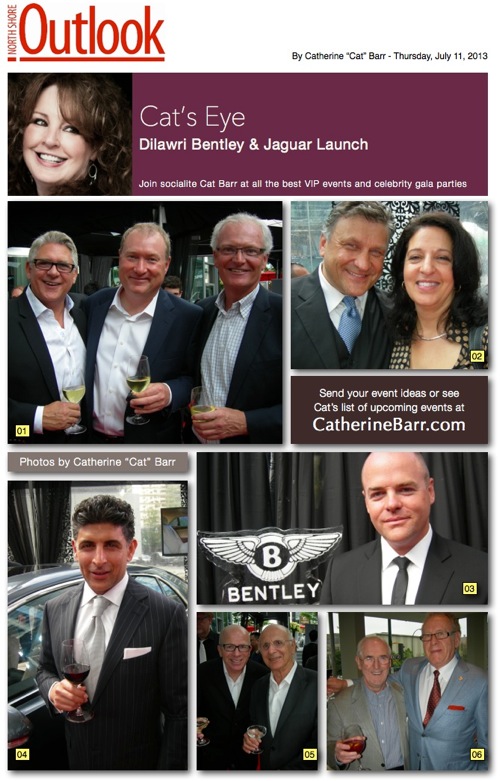 01 – Three cheers to three of the best guys ever to come from the North Shore, namely David Alexander, left, of Dick's Lumber, Craig Beere, of Beere Timber and Steve Bradner, of Bradner Homes.
02 – North Vancouver's Jerry Stefaniuk and wife Sharon Cramen enjoy some canapes and conversation before the formal presentations.
03 – MCL Motorcars general sales manager Dean Rideout gets ready for his speech as he stands near the very popular ice bar which was filled with gourmet oysters.
04 – Ajay Dilawri, president Dilawri Automotive Group stands beside the star of the show – a beautiful 2014 Bentley Flying Spur fit for a king.
05 – West Vancouver realtor Malcolm Hasman and his father Les are the perfect father/son business team.
06 – West Vancouver's Robert Barr chats with friend Kaare Foy who is also an Honorary Consul for country of Montenegro.
– – –
By Catherine Barr – Jun 25, 2013
Also as seen in print in the North Shore Outlook Newspaper on Jul 11, 2013

– – –