Get out your social calendars, it's time for us to plan our schedules together. So whether you're a Vancouver foodie, a celebrity hound or a fine wine connoisseur, you'll want to mark these great events down. Every year, there's so many fabulous and worthy charity events that deserve our attention, but the important thing is to remember to give, in any way you can, so that 2011 can be a successful year for all.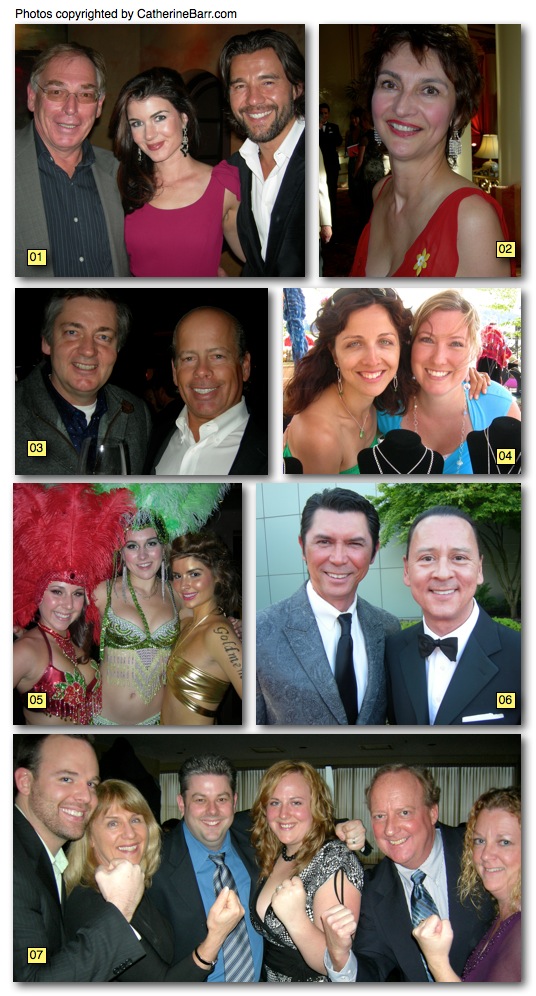 01 – The Vancouver International Film Festival will be celebrating it's 30th year this year and runs from September 29 – October 14, 2011. Seen here from last year are actors Gary Chalk, left, (of Stargate SG-1, MacGyver, Watchmen fame), Vancouver celebs Gabrielle Miller (Corner Gas, Robson Arms) and Steve Bacic (Andromeda, CSI Miami, Crash and Burn).
02 – The Canadian Cancer Society's Diamond Ball has been reinvented for 2011. Now called The Daffodil Ball, this year's gala will be held on April 16 at the Fairmont Vancouver Hotel. BC Cancer Society CEO Barbara Kaminsky is always grateful for the generosity of sponsors and guests.
03 – The Vancouver Playhouse International Wine Festival will be held March 18 – April 3 at various locations. Main tasting room is at the Vancouver Convention Centre and the featured country this year is Spain. Seen here toasting the event are Harry Hertscheg, Executive Director, and festival sponsor Daivd Aisenstat, of Hy's, Gothams and The Shore Club fame.
04 – West Vancouver will celebrate its 21st Annual Harmony Arts Festival this year during the first week of August complete with artisans, craft fairs, kids seminars and live outdoor music. West Vancouver locals Diana Krall and Elvis Costello were even spotted browsing through the craft fair where artisans like Indigo Star jewellery designer Susie Wickstead, left, and girlfriend Dyanne Jack display their wares.
05 – Wine and food lovers alike should mark their calendars for November 10 – 13, 2011 in Whistler when the annual Cornucopia festival returns. Vegas showgirls and more are always in tow for one of the biggest after parties – Casino Royale at Ric's Grill.
06 – The Leo Awards, Vancouver's most glamorous red carpet celebrity gala, is always one of my faves. Look for North Shore producers Walter Daroshin and Sonny Wong to return to the stage in late spring. Seen here on the red carpet last year is actor Lou Diamond Phillips, left, of La Bamba and Young Guns fame, with Walter Daroshin.
07 – The 9th Annual A4K (Athletics for Kids) Boxing Dinner Gala is scheduled for Friday April 1, 2011 at Hollyburn Country Club. Put up your dukes with A4K founder Craig Knapton and his family who are always fighting for a good cause.
– –
By Catherine Barr – Jan 3, 2011
Also as seen in print in the North Shore Outlook Newspaper on Jan 6, 2011