Terry David Mulligan is much more than a media music man. North Shore folks everywhere know him from the 70s and 80s thanks to his many radio and television appearances. Today, he spends most of his time in the Okanagan sipping and sampling BC wines on his Tasting Room Radio show and he also co-hosts a wine show called Hollywood and Vines with fellow actor Jason Priestly. Last week, as part of a charity fundraiser for the Vancouver Food Bank, Terry agreed to be roasted and toasted by his peers at a special dinner and entertainment event. Vancouver comedian Patrick Maliha, organizer and host, helped put the night together which featured many famous North Shore faces including a special appearance by CBC / Double Exposure comedy legends Bob Robertson and Linda Cullen.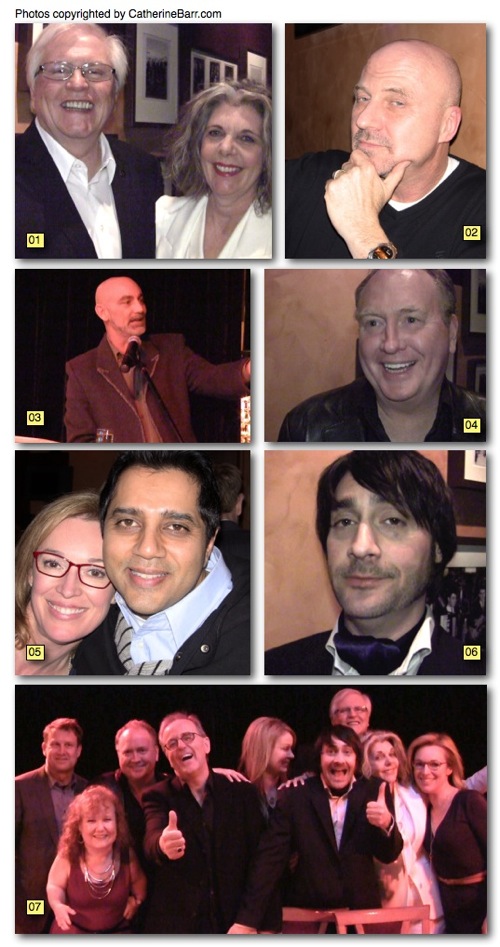 01 – Famous for their political impersonations, CBC comedy legends Bob Roberson and Linda Cullen bring down the house as they introduce a hilarious "Jean Chretien" to the rostrum.
02 – No one is safe this night. Just ask North Vancouver comedian and CTV weatherman Marke Driesschen who even has to duck a jab or two from fellow roasters.
03 – North Vancouver born comedian Carter Hortie starts off the night on the right note giving us his best impression of a "Mulligan".
04 – He knows how to Pratt-le on, and then some. CKNW radio sportsman David Pratt is all smiles as he gets ready to roast his long time friend.
05 – Breakfast Television host and North Vancouver gal Jody Vance gets ready to roast while chatting with CTV's newest morning man, Aamer Haleem, who came out to see all the fun.
06 – Congrats to organizer/host and Vancouver comedian Patrick Maliha who put together the evening in support of the Greater Vancouver Food Bank.
07 – Terry David Mulligan gives the thumbs up for a fabulously successful roast and toast night that won't soon be forgotten.
– – –
By Catherine Barr – March 23, 2012
Also as seen in print in the North Shore Outlook Newspaper on March 29, 2012
– – –

– – –