It was truly "Brilliant"! This was the title of The St. Paul's Hospital Foundation's special sold-out gala that featured an evening dedicated to "A Show of Love for Mental Health and People Living with HIV/AIDS". It was one of the most colourful and well-coordinated shows ever seen in Vancouver. With over 900 people in attendance, and a cast featuring dozens of models, makeup artists, hair stylists, dancers and performers, guests were treated to the "One Hundred Years of Fashion" extravaganza show. Live auction items included trips, artwork and luxury items – the most spectacular of which will be a dinner for friends cooked in your home by the Vancouver Fire Fighters.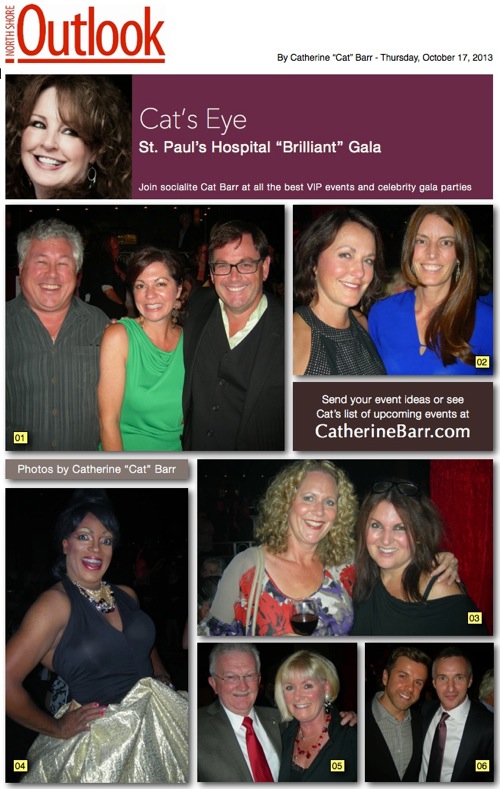 01 – Big supporters of St. Paul's – John Ormiston, left, joins Jana and Bill Maclagen who also post the winning bid for that amazing dinner cooked by the fire fighters.
02 – Guest Tammy Preast, left, and North Vancouver's Parise Siegel take their seats for the big fashion show extravaganza.
03 – Fashion ladies Heather Sosa, left, and Jennifer Angers Daerendinger chat before the show.
04 – Channelling Shirley Bassey, guest host and drag diva "Symone" also wows the crowd as MC.
05 – Making the trip from North Vancouver to attend the gala are Brian and Gillian Hulme.
06 – So great to share the table with the always stylish Klay Kaulbach, left, and David Verwey.
– – –
By Catherine Barr – Sep 2013
Also as seen in print in the North Shore Outlook Newspaper on Oct 17, 2013
– – –

– – –