Words almost can't describe it. At first, it was sheer excitement at the site of the colourful Moroccan themed private tent suites. Then, it was pride as opening acts like the Sarah McLachlan Foundation Choir took to the stage and cruise ships sailed past Ambleside beach. Finally, as night falls on a near perfect day, it was magic as Sheryl Crow, Neil Young and Sarah McLachlan, three of the biggest names in music, performed to a sold-out crowd the likes of which we have never seen here in West Vancouver. It was a once in a lifetime VIP experience that I hope we get to do all over again next year, and next, and next. Congrats to everyone involved.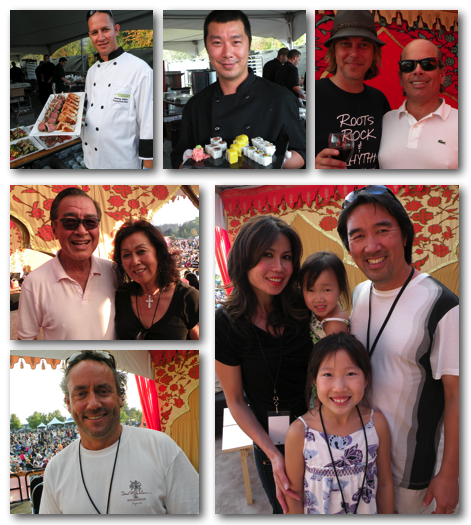 01 & 02 – Glowbal Catering executive chef Jeremy Atkins and sushi chef Yoshi prepare food fit for concert royalty as they serve up mango california rolls, ahi tuna, lamb chops and lobster grilled cheese (my fave) to those in the VIP suites.
03 – The Shore 104 Radio program director Patrick Zulinov, left, parties like a rock star with Keg Restaurant empire owner, and now part-time radio owner, David Aisenstat in his VIP suite.
04 – It's been a long time since Dr. Robert Lee tapped me on the head for graduation as UBC Chancellor back in 1995. This night, he and wife Lily bask in the sun in his VIP suite next to Sarah McLachlan's dad and family to enjoy the show.
05 – He's a member of CBC's the Dragon's Den, but in real life Brett Wilson is a real sweetheart who is a big fan and supporter of the Sarah McLachlan Foundation.
06 – West Vancouver's Graham and Angela Lee deserve a lot of the credit for making this concert happen. It was Graham's original idea that got the ball rolling – thank you thank you thank you.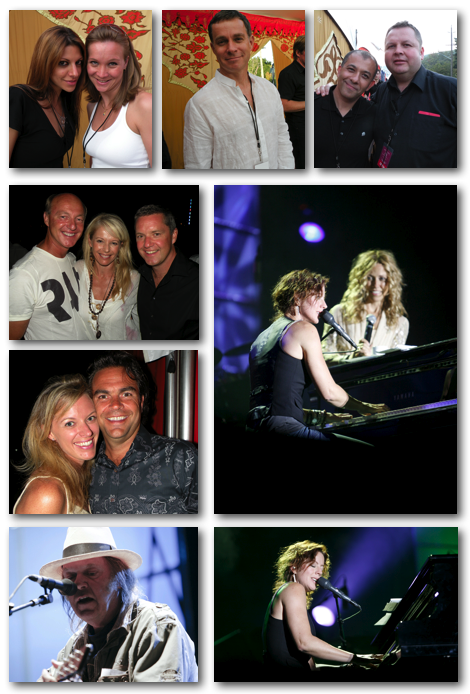 07 – Singer Nadina Zarifeh, left, is mobbed by hundreds of thousands of fans when she appears in the Middle East, but this day she gets to enjoy some quiet time at someone else's concert with friend Petra Muir.
08 – Nettwerk Records' CEO and YYOGA co-founder Terry McBride has had a busy week with the planning of this concert AND the opening of his latest Flow Wellness studio in downtown Vancouver. Congrats Terry – you rock!
09 – Glowbal Group owner Emad Yacoub, left, and managing partner Jack Lamont work it behind the scenes keeping food and fans happy.
10 – Always part of the VIP scene and known for their philanthropy are West Vancouver's Harald and Sharlene Ludwig and John O'Neill.
11 – Candace Alderson and Martin Charlwood cuddle under the stars as Sarah takes the stage.
12 – Surrounded by a halo of guitars, music legend Neil Young plays a mellower, unplugged set in front of 9,000 fans who just couldn't get enough.
13 & 14 – Sarah McLachlan and Sheryl Crow team up for duets on Crow's "Strong Enough" and McLachlan's "Angel", giving everyone goosebumps. HItting high notes with no effort at all, and with no signs of the laryngitis she had been battling earlier in the week, McLachlan ended the show by asking "So if we do this again would you all come back?" You bet!