Glitterati have flocked to the Big Apple this week as New York's Mercedes-Benz Fashion Week runs from September 5-12, 2008. But some still wonder if it's all for real.
Well social-climbers and panicky debutants can put their Percocet back in their Pradas because the real deal is in full swing and the cars and stars have come out to play. Lindsay Lohan, Ivana Trump, The Olsen Twins, Winona Ryder, Rene Zellwegger, Victoria "Posh Spice" Beckham, Jennifer Lopez, Kanye West, Beyoncé, Kelly Osbourne, and Kirsten Dunst have all been spotted either on the catwalks or in the front row ogling at the latest and greatest haute couture and creations by designers like Betsey Johnson, Max Azria, Vera Wang and Ralph Lauren.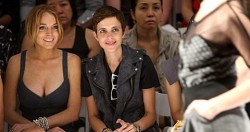 But with all this focus on fashion, has anyone actually stopped to admire the cars? The German automaker has spent millions on the campaign and even handpicked couture designer Ralph Rucci as this year's Mercedes-Benz Presents Designer in an effort to grab even more of the spotlight.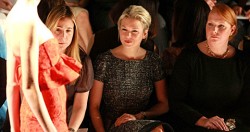 The good news is the heads are turning to notice the high performance CLS63 AMG and diamond white metallic S550 Sedan that have been parked in the lobby of the Bryant Park Tents.
Mercedes Benz car at Fashion Week New York
The 2009 CLS63 AMG features Alcantara interior roof liner, a carbon-fiber dashboard and new, sleek front and grill design while the signature edition 2009 S550 sedan features exclusive Diamond White metallic exterior paint, and a sultry Sahara Beige/Black interior. Dedicating the car to Saks for the KEY TO THE CURE fundraising efforts, Steve Cannon, vice president of marketing for Mercedes-Benz USA, is especially proud to tout its' greatness. "The S550 offers auto enthusiasts not only what they've come to expect from Mercedes-Benz," he states. "But now, as part of Key To The Cure, [it's] a unique opportunity to help make a difference in the fight against cancer."
– as published by Canadian Auto Press on September 10, 2008 – written by Catherine Barr