Last week, The Vancouver Music Industry (VMI) held its fourth annual Gala and Golf Event to benefit the Sarah McLachlan Music Outreach. The spectacular looking Sarah was there in person and looking oh so very hot-hot-hot in a spectacular blue and green gown and fabulous summertime tan. The evening's highlight came when Bruce Allen presented the Bruce Allen/ Sam Feldman Legend Award to North Vancouver's famous Bryan Adams and his fabulous song writing partner Jim Vallance who is responsible for the chart topping hits of Aerosmith, Ozzy Osbourne, Heart and Alice Cooper, to name a few.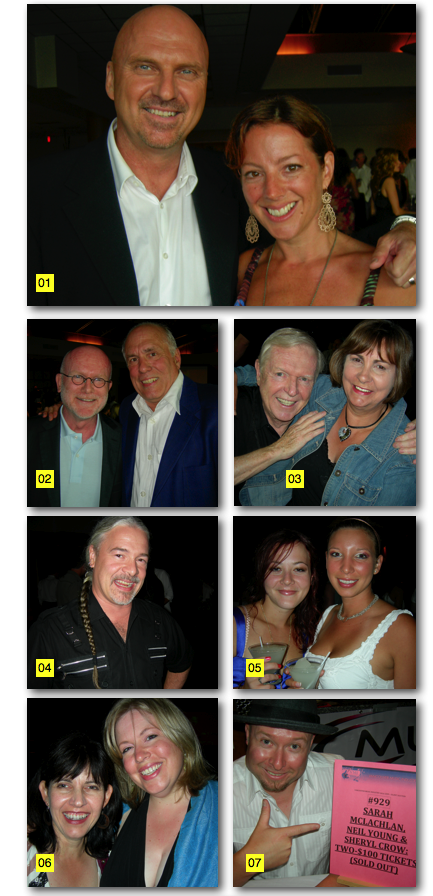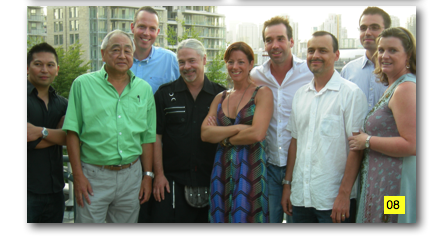 01 – North Vancouverite, comedian and CTV weatherman Marke Driesschen could easily be Canada's version of David Letterman. This night, he is thrilled to play MC for Sarah McLachlan at the big gala evening.
02 – Songwriting sensation Jim Vallance, left, accepts the Bruce Allen, left, Sam Feldman Legend Award for his work on songs like Bryan Adams' "Cuts Like a Knife" and Aerosmith's "Rag Doll".
03 – Last year's Legend Award recipient and Rock and Roll Hall of Famer Red Robinson and wife Carole are among the VIPs in attendance.
04 – Vancouver based sound engineer Mike Fraser is no stranger to fame having worked with the likes of AC/DC, Aerosmith, Led Zeppelin and more.
05 – Sipping frozen martinis on a record breaking hot gala night are guess Janine O'Rourke, left, and Hayley MacGregor.
06 – Supporting a good and bidding on fabulous auction items are guests Mona Forster, left, and Shelley Smee.
07 – Program director Dunner, from 99.3 The Fox radio, keeps a close eye on the bids for tickets to the sold out Sarah McLachlan, Neil Young and Sheryl Crow show this September in Ambleside, West Vancouver.
08 – Congrats to Sarah McLachlan and her committee for all their hard work and for putting on such a fabulous event.
– Catherine Barr
Date of Event – July 28, 2009
Published – August 6, 2009 in the North Shore Outlook Newspaper