Spring is gala season! So what better way to celebrate than to raise money for your school. That was what the parents at West Vancouver's Ecole Pauline Johnson did last week via their talented Parents' Advisory Committee (PAC) with the Samba Till Sunrise fundraiser and art auction. Hollyburn Country Club was decked out in colours as everyone got into the theme. But what made this event extra special was the many professional art items put up for bid which were created by the kids in conjunction with famous name artists like Bobbie Burgers and Brent Comber. Congrats to all involved.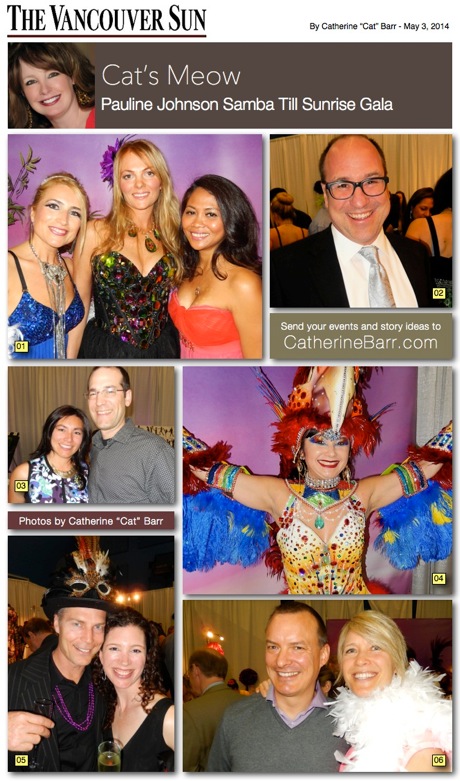 – – –
01 – Looking extra glam are Pauline Johnson moms Omur Anil, left, Emma Tucker and Josephine Breslaw.
02 – He's even better than Jay Leno. Parent George Reznik is a definite crowd pleaser as this year's MC.
03 – Committee member and organizer Eileen Huster and husband Andreas.
04 – The Queen of Samba and her dancers entertain guests during the silent auction reception.
05 – Mark Trotzuk and Jennifer Hatton shop the silent auction and art items up for grabs.
06 – Bidding on one of the feature art pieces of the evening is committee member Jill Whitehead and husband Peter.
– – –
By Catherine Barr – May 2, 2014
Also as seen in the Vancouver Sun Newspaper
– – –
By Catherine Barr




www.CatherineBarr.com  |  www.WestVancouver.com  |  www.NorthVancouver.com
– – –