It's always a great night out and this year was no different. The 9th annual North Shore Rotary Wine and Food Festival was held last weekend at Park Royal South. Several wine and food stations, provided by local agencies and restaurants like Taylor's Crossing, Grouse Mountain, The Keg, Mangia e Bevi and more, ensured guests could eat and sample to their heart's content. Live music and mingling all helped raise funds for this year's beneficiary, the North Shore Youth Safe House.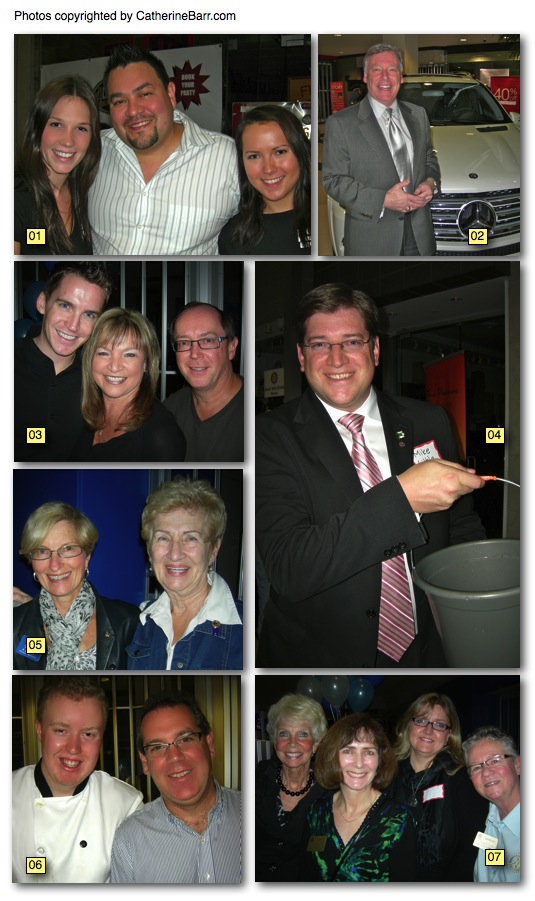 – –
01 – Taylor's Crossing crew Katie Joyce, left, manager Jody Antone and Kelly Price are putting out the pizza for all the guests past their table.
02 – The always dynamic Daniel Falcon, of Mercedes-Benz North Vancouver, is one of the night's smiling sponsors. Could it be because he gets to drive that fabulous luxury SUV?
03 – Back to back . . . to back. Jordan, left, Holly and Dennis Back are as close to a North Vancouver founding family as you'll ever get having been active in the community's government, charity and business scenes for years.
04 – North Van District councillor Mike Little even makes the job of spitoon boy look glam as he carries his bucket from table to table. Eek!
05 – Long time Rotarians Janice Bosley, left, and Jacci McTavish, both of West Vancouver Sunrise, count up the raffle tickets and money at the front door.
06 – A fab "Fusili Tartufate" has them lining up for a taste from Mangia e Bevi's main men Paul Jennings, left, and Rob Parrott.
07 – Hard working volunteers are always the key reason behind the success of functions like these. Thanks to Rotary Club members Ardth Paxton-Mann, left, Nancy Robblee, Marni Fraser and Shirley Roberton for their hard work.
– –
By Catherine Barr – Oct 23, 2010
Also as printed in the North Shore Outlook Newspaper on October 28, 2010