The 8th Annual North Shore Rotary Wine and Food Festival took place last weekend at Park Royal Shopping Centre. Sipping and sampling was on the menu as was live music and more. Local restaurants, wineres and volunteers all pitched in to help make it happen and proceeds raised will go to the North Shore Youth Safe House. Hanging out at the mall with friends was never quite like this. Cheers.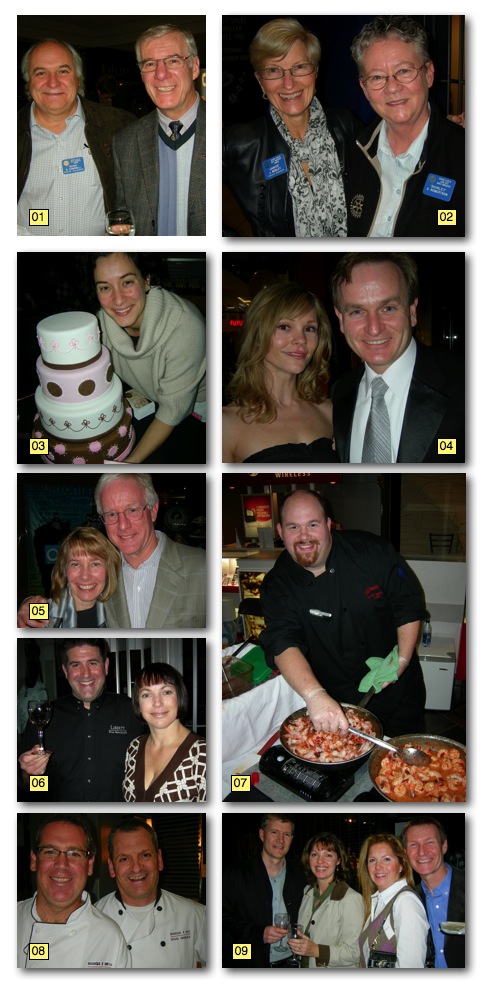 01- West Van Surise Rotary president Bawn Campbell, left, and North Van Rotary president Norm Thompson greet guests as they arrive.
02 – Helping organize the event are members Janice Bosley, left, and Shirley Robertson.
03 – Cupcakes store owner Lori Joyce, who just opened her newest store in the village, hands out sweet snacks topped with frosting and love.
04 – North Vancouver MP Andrew Saxton attends the event with friend and voice-over actress Brandi Ferguson.
05 – North Vancouver District Mayor Richard Walton and wife Celeste Pelc are among the VIPs coming out in support.
06 – Liberty Wine Merchants' Tyler Dawson and Shelley Preston keep the glasses filled with reds and whites.
07 – Hot stuff – Horseshoe Bay Boathouse chef Gerry Wiesner was a popular guy thanks to his pan full of delicious spicy hot prawns.
08 – Shitake mushroom pasta fresh from the table of Magia E Bevi chefs Rob Parrott, left, and Doug Grisdale kept them coming back for more.
09 – Cheers to good friends and good times at the mall. From left: Doug and Jane Knill, Alexandra Buesse and David Smith.
By Catherine Barr – October 24, 2009
Published in print by the North Shore Outlook newspaper on October29, 2009