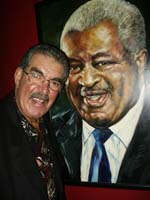 After 18 years, the May family has formally announced the closing of their iconic jazz restaurant Rossini's on Kits beach.
"You have all meant more to us than you realize as so many of you were not just our customers . . . you truly became family," writes the family in a recent press release confirming the details of the closure.
Legendary for its Saturday afternoon jam sessions, the pasta parlor was also home to some big names in the industry, including the late Linton Garner, elder brother to legendary pianist Errol Garner. Also sitting in on the scene were famous faces Charlie Byrd, Herb Ellis and the Ray Brown Trio to name a few. Locals like Bob York, Denny Clarke, Armi Grano, Lorraine Foster and Billy Dixon have all taken their place on stage.
A celebration in honour of the family and the restaurant will be held Thurday, August 26th at the Performing Arts Loge (PAL) penthouse on Cardero Street. Doors open at 5 pm and admission is $10 with the proceeds going to the Linton Garner Foundation.