You know it's a good party when you get to play with the Belugas and tickle the sea otters. Add in some sustainable seafood, a glass of vino and some lavish auction items and you've got "Night at the Aquarium" – the Vancouver Aquarium's signature gala fundraiser. This year, the gala raised over $300,000 and all of the proceeds go directly toward supporting the Aquarium's numerous research, education and conservation efforts. Also last week, North Vancouverite and Steamworks proprietor Eli Gershkovitch welcomed guests to his newest installment – Rogue Kitchen & Wetbar – located in the downtown seabus terminal. Formerly known as the Transcontinental, the refurbished room features fabulous new decor and a new menu well worth the trip.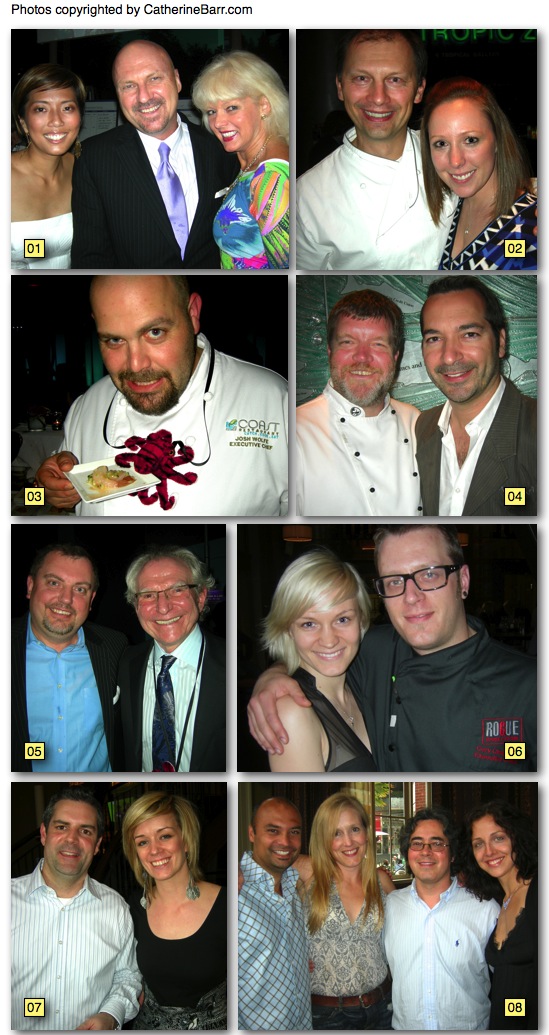 01 – Global TV weekend anchor Sophie Lui, left, CTV weatherman Marke Driesschen, and West Vancouver's "Mercedes Lady" Eva Taubenfligel get ready to bid on items at the Aquarium.
02 – Blue Water Cafe chef Frank Pabst and Top Table communications director Shelley McArthur pass out sustainable seafood to guests at the Aquarium.
03 – Coast chef Josh Wolfe feeds his new stuffed baby octopus some Ocean Wise spot prawns. Guests who bought a $200 raffle ticket at the Aquarium were each given the eight-legged creature as a thank you.
04 – Taking centre stage with the other famous foodies at the Aquarium are Chef Robert Clark, left, and restauranteur Harry Kambolis, both of C Restaurant fame.
05 – Hanging with the jellyfish, VIP guest Colin Metcalfe, left, enjoys some conversation with the North Shore's own Chuck Brooks at the Aquarium.
06 – They're going Rogue! Server/model Lisa Cadrain cuddles up to executive chef Cory Chapman at the opening of the new restaurant.
07 – Rogue Kitchen & Wetbar GM Carl McCreath and manager Gosia Niesluchowska keep things moving on a busy opening night.
08 – North Vancouver businessman Adam Wickstead, left, and wife Susie, right, give congrats to Rogue owner Eli Gershkovitch and his wife Brenda, centre, on their new venture.
– –
By Catherine Barr – June 10, 2010
Also as published in print by the North Shore Outlook newspaper on June 17, 2010