January 25th is known the world over as Robert Burns Day. Famous for his poems and songs, Scotland's national bard is celebrated every year with a traditional dinner featuring bagpipes, honourary toasts and the "Address to the Haggis" – an often maligned (but rather tasty) Scottish delicacy. Last week it was the feisty folks at West Vancouver's Seniors Centre who came out to raise a dram to the man who left us with much more than just his immortal memory. Congrats to all involved.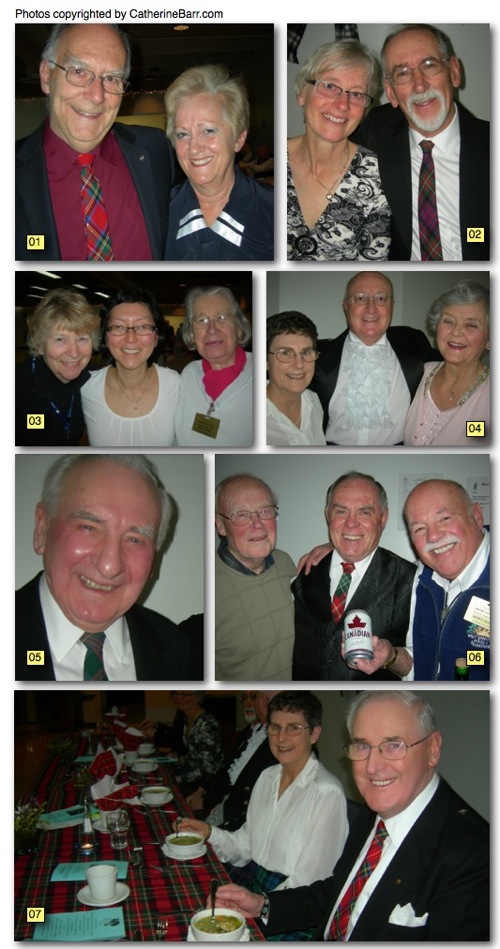 01 – Marny Peirson, seen here with hubby John, helped lead the Robbie Burns sing-a-long with her special prowess at the piano.
02 – Eric Sanderson, seen here with wife Shirley, is a master with the blade as he carved up the beast during his Address to the Haggis.
03 – Seniors Centre volunteers Mel Clark, left, and Nora Coates flank program coordinator Sylvia Lung as they help out during this special evening.
04 – Surrounded by "lassies", Mike Nicols delivers the Toast to the Lassies. Hilary Blair, left, provided the Reply to the Lassies while May Loudon led her Gleneagles Scottish Country Dance Team in a reel or two after dinner.
05 – "Some hae meat and canna eat . . ." The Selkirk Grace was delivered in expert fashion by Bob Black.
06 – They're almost as important as the haggis. Bartenders Ian Loudon, left, Ralph Townsend and Jim Adam keep the scotch topped up throughout the evening.
07 – Heading up the head table is Vancouver Burns Club president and West Vancouverite Robert Barr who also acted as the MC for the evening.
– – –
By Catherine Barr – Jan 18, 2012
Also as seen in print in the North Shore Outlook Newspaper on Jan 26, 2012
– – –

– – –