The Kay Meek Centre in West Vancouver is a community gem. Loved for its plays and performances, it has become a place that supports the professional arts and the people in a small community known for its close-knit nature. Last week, it was time for the annual gala fundraiser. This year superstar Canadian comic Rick Mercer headlined the event with his one-man show and lots of laughs. The evening also included a garden reception complete with food and drinks and lots of mixing and mingling before the show.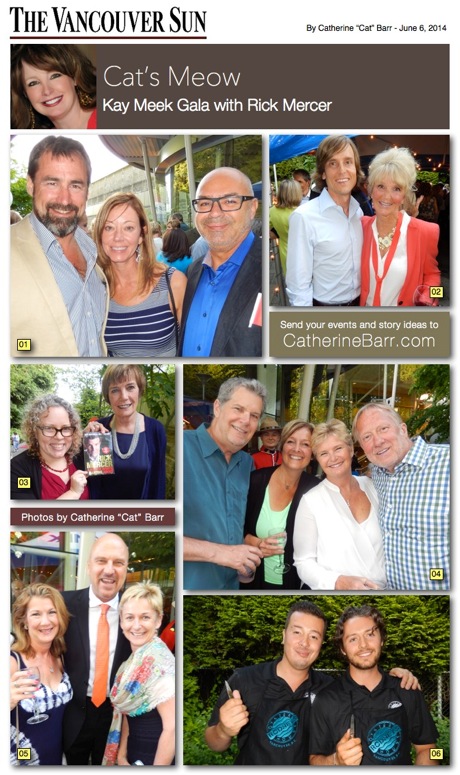 – – –
01 – MLA Jordan Sturdy, left, chats with Christine and Rick Amantea, of Park Royal fame.
02 – Fashionista Marilyn Diligenti, of Marilyn's fashions, is proud to have son Franco on her arm this night.
03 – Kay Meek's Jeanne LeSage, left, and Dorothy Byrne, West Van Arts Centre Trust Secretary, hold up a copy of Rick Mercer's new book.
04 – Enjoying the sunshine on the patio prior to the show are Glen Slingerland, left, Karen Pedersen, Leslie and Don Rutledge.
05 – Amandah Tanner, left, chats with hubby/weatherman Marke Driesschen and former CBC weather gal Claire Martin.
06 – They're so popular. Shucking oysters from Rodney's Oyster Bar are Isaac Martin and Ty Fraser.
– – –
By Catherine Barr – June 6, 2014
Also as seen in the Vancouver Sun Newspaper
– – –
By Catherine Barr




www.CatherineBarr.com  |  www.WestVancouver.com  |  www.NorthVancouver.com
– – –