Spring is always the busy season for events, so what better way to catch up than to take a look back at a few highlights. The 15th Annual Canadian Cancer Society Daffodil Ball, held at the Fairmont Vancouver Hotel, attracted many North Shore guests to a wonderfully glamorous evening with TV funny man Rick Mercer. Next, Capilano University honoured some of their own at their elegant Awards of Excellence night at the Vancouver Club. Meanwhile, it was time for hot dogs and even hotter digs at a barbecue lunch/launch of Adera's new Seven35 condo development in North Vancouver. And last week, Capilano Suspension bridge peeps invited everyone to take a walk on the wild side with the opening night party of their newest attraction – Cliffwalk – which gives visitors a whole new way to step out on the town.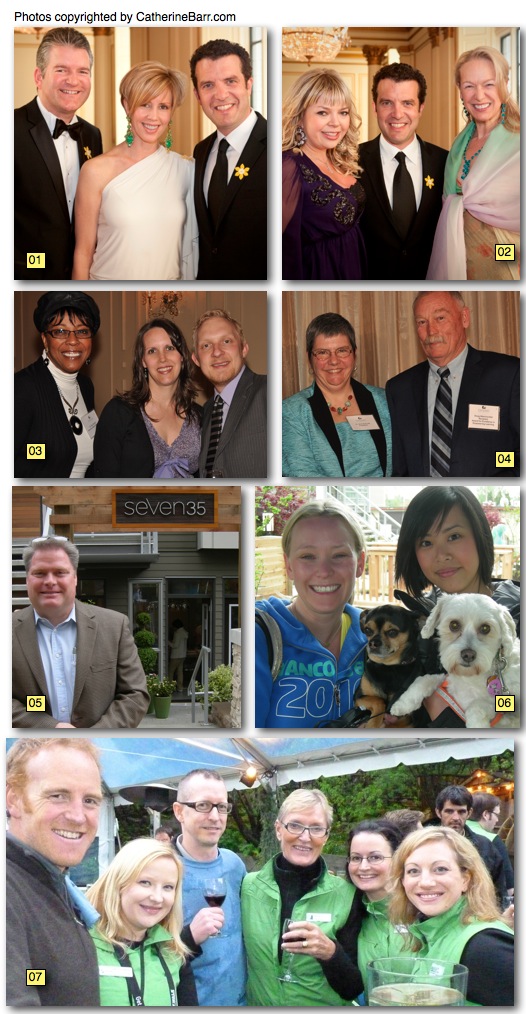 01 – Socializing in the VIP room before the start of the Canadian Cancer Society Daffodil Ball is North Vancouverite and CTV anchorman Mike Killeen, left, wife Jill and gala MC/TV personality Rick Mercer.
02 – It is champagne, canapes and celebs in the VIP room at the Canadian Cancer Society Daffodil Ball for guests Alexis Palkowski, left, and Carmen Ruiz y Laza as they enjoy a private meet and greet with MC/TV personality Rick Mercer.
03 – Jazzing things up at the Capilano University Awards of Excellence night are honorary degree recipient Dee Daniels, left, with Distinguished Alumni Award recipient Cory Weeds, of Jazz Cellar fame, and spouse Alana Stone.
04 – Capilano University's Dr. Kris Bulcroft, President & Vice Chancellor,left, hands the Award for Excellence in Empowering Learning to recipient Doug Abercrombie.
05 – A first class private tour of the new North Vancouver Seven35 development from Adera marketing and sales vice president Eric Andreasen shows why these new homes are outdoor living at its finest.
06 – Dunn PR pro Rachel Thexton, left, and Germaine Chang of Adera properties take their pampered pooches for a bite of barbecue and a stroll around the new homes up for sale at North Vancouver's Seven35 development.
07 – Living on the edge, the gang at North Vancouver's Capilano Suspension Bridge gets together to celebrate the opening of their new Cliffwalk exhibit. From left: Dave Edgar (Rope Specialist), Stacy Chala (Communications Manager, Capilano Suspension Bridge), Kent LaRose (Lead Design Engineer), Nancy Stibbard (Owner & CEO), Nicole Kopchia (HR Manager), Kara Butler (Assistant Operations Manager).
– –
By Catherine Barr – June 6, 2011
Also as seen in print in the North Shore Outlook Newspaper on June 9, 2011