Ralph, Elena and Deb (R.E.D. Management) are no strangers to talent agency management. In fact, between them they've got over 35 years experience here in Vancouver representing some of the best and brightest in the biz on familiar shows like Battlestar Galactica, Intelligence, 24 and more. So when it finally came time to strike out on their own, they made it look easy. Now, with a floating barge for a home here in North Vancouver's Mosquito Creek Marina, they can celebrate their first anniversary in style. Invited guests and local celebs came out to party aboard the Queen of Diamonds on a sunny Sunday afternoon and toast the trio that helped make the famous.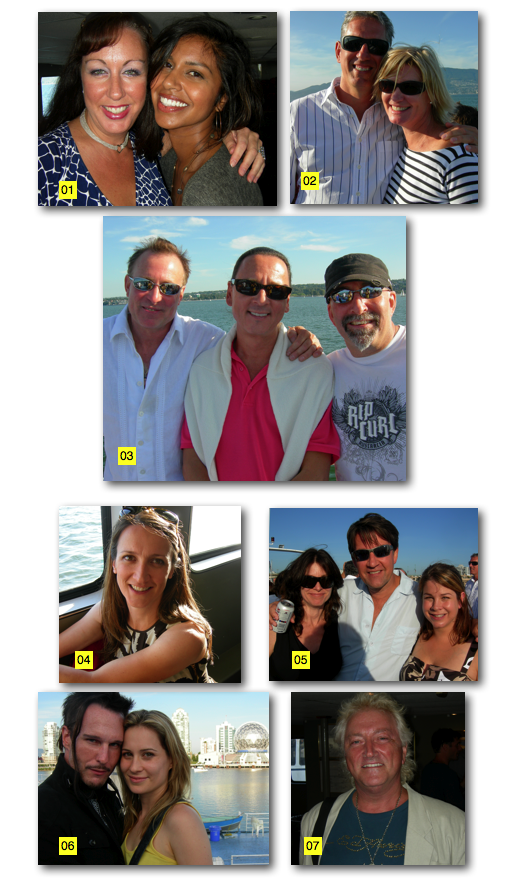 01 – Women in Film and TV Vancouver (WIFTV) president/producer Robyn Wiener, left, and actress Patricia Isaac enjoy a day on the waves.
02 – Bob Keenan and actress Barb Tyson soak up the sun on the upper deck of the Queen of Diamonds boat.
03 – Actor/producer Brent Fidler, left, North Van producer and Leo Awards creator Walter Daroshin and Characters' agent Murray Gibson get a chance to chat about the biz and more while sailing English Bay.
04 – Award-winning comedy actress Ellie Harvie, who has starred with the likes of Arnold Schwarzenegger, is a local fan fave who recently became a new mom.
05 – Congrats to the R.E.D. team – namely Ralph Streich, Elena Kirschner and Deb Dillistone on this milestone anniversary.
06 – Always looking good in a close-up are Leo Award winning actors Michael Eklund (Walk All Over Me) and Camille Sullivan (Mothers and Daughters).
07 – Landlord and friend Murray MacDonald helped the gang get started with their floating offices down at Mosquito Creek Marina.
– Catherine Barr
Published in the North Shore Outlook newspaper on Sep 3, 2009