Burlesque performer Quinn Lemley knows that sometimes you "gotta get a gimmick". But look beyond the tricks and kicks and you'll find that her stage salute to the classics is full of both substance, and show.
Leading lady Lemley is bringing her Burlesque to Broadway stage extravaganza to Vancouver's River Rock Theatre this coming weekend (April 6). Her ensemble includes two talented sidekicks (dancers Amanda Brantley and Sarah Brophy) and a 10-piece big band taken directly from the Great White Way.
Armed with a wardrobe of feathers and fans, and a whole slew of sequins and sparkle, the passionate red-head promises an event that feels more like a party than anything else.
In an recent interview from New York city, Lemley says that while she has visited BC before, she is very much looking forward to her first visit to Vancouver.
"I want everyone to be titilated and teased and really pleased," she says with a giggle over the phone.
Lemley however is also quick to point out that underneath all the glamour, the show is a special tribute to the ladies of the burlesque era and the amazing legacy they left behind.
Inspired by names like Mae West, Rita Hayworth and more, Lemley affectionately describes her romance with the stage and the songs she so dearly loves to perform.
"I don't know what it is," she says. "But putting on a boa you just feel so fun and sexy."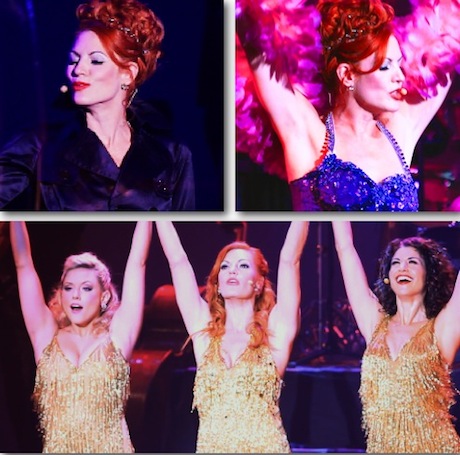 Written and produced in part by Lemley herself, she says she couldn't wait to write a story that tells the tale of not only her idols, but also herself.
Lemley also adds that while it was important to keep the production sultry and sexy, it is by no means vulgar or inappropriate in any way.
"I think there's something about manners and glamour and decency and watching how we speak," she states. "It's all the old jokes with double entendres and it's never sleazy – it's smart. I think always being classy is best."
Saying that they really blow the roof off the house with one hit after another, Lemley looks forward to belting out the biggies. She also looks forward to meeting her audience after the show.
"The people in BC are amazing," she says. "We always have women coming out in groups dressed-up and and it's a great date night."
Talking to her, it's easy to tell that this burlesque beauty has a genuine fondness for the women she portrays on stage. And while most folks can't wait to see her in character, it's clear that her strength of character is what makes her a star.
By Catherine Barr