IT was a fun "foodie" type week last week as competitions, cookbooks and the first sign of Christmas crept into the headlines. First up, local chefs help promote sustainable seafood at the Vancouver Aquarium during the Seafood Chowder Chowdown. Then, it was time for a little Viva Italia at Quattro on 4th as local favourite, Antonio Corsi, teamed up to publish his family's food secrets in a fabulous new cookbook – just in time for Christmas. And speaking of Christmas, the first cheer of the year goes to the good folks at Rogers Communication in a special holiday reception held at the chic and stylish Lift restaurant and lounge.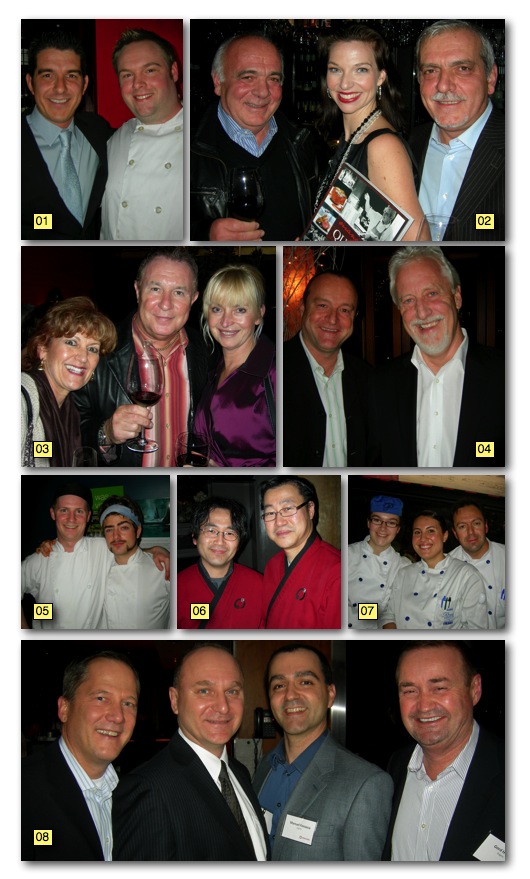 01 – Quattro on 4th manager and author Patrick Corsi keeps the food coming at the cookbook launch with chef Brad Ellis.
02 – Brothers Mario Corsi, left, and Antonio Corsi first became famous here on the shore at the old Park Royal Hotel. Now, with cookbook co-author and North Shore PR gal Tanis Tsisserev, Antonio reveals some of his family's famous recipes.
03 – Publisher Michael Burch, of Whitecap Books here in North Vancouver, is proud to present the new Corsi cookbook. Here he toasts the launch with chef/foodie Caren McSherry, left, and wife Kristina Stosek.
04 – Lift's new business development man Steve Bickerdikem, left, and owner Bob Lindsay welcome VIPs to the first holiday event of the year at the Rogers party.
05 – Taking second place at the Chowdown for their Thai coconut chowder are the boys from the Refinery: Peter Warszycki, left, and Johnny Bridge.
06 – West Vancouver's Zen Sushi chefs Alexi Kami, left, and Nobu Ochi have them lining up at the Chowder Chowdown.
07 – Culinary students Kiri Murtagh, left, and Sarai Pardo De Zela take in the Chowdown competition with chef Glen Roberts.
08 – Looking good for the first holiday event of the season at Lift are Rogers/CityTV's dapper executive team members. From left: Gord Nelson, VP and GM of British Columbia; Renato Zane, VP and GM CityTV/Omni; Manual Fonseca, CityTV managing producer; and Gordon Howie, VP Finance and Business Development.
By Catherine Barr – Dec 1, 2009
Publishing in print in the North Shore Outlook on Dec 3, 2009