West Vancouver's annual Pumpkinfest scored big this weekend as the sun shone down on everyone at the West Vancouver Rec Centre. It was a true family fun weekend complete with contests and displays and a Saturday night dance for the adults. There was music, food, kids' activities, a scarecrow contest and, of course, the pumpkin patch. Sunday afternoon the awards were handed out to those who participated. A big congrats to all the volunteers who helped lift more than a bale or two to help make it all happen.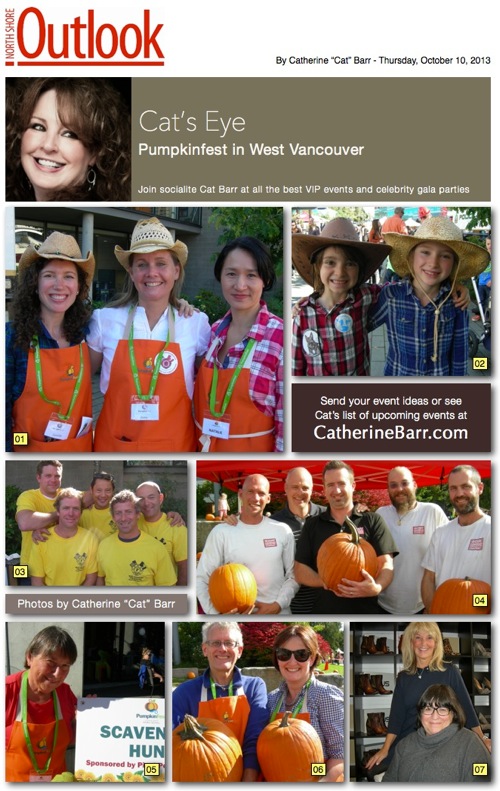 01 – Three cheers for the three co-chairs of this year's Pumpkinfest. From left: Jennifer Hatton, Jenny Hippel and Natalie Roizman.
02 – They're among the youngest volunteers ever having started helping out at Pumpkinfest when they were just three and five years old respectively. Today, three years later, John and Ava Hatton are still at it. Wow!
03 – Members from the West Vancouver Fire Fighters Charitable Society are on hand to help show their safety moves to the kids.
04 – Proud sponsors of the pumpkin patch this year, the boys from Great Canadian Landscaping Company help hand out the harvest.
05 – Running the Scavenger Hunt, which is sponsored by Park Royal, is volunteer Barbara Miles-Luthy.
06 – Get a good one! Come and pick your pumpkin from volunteers James Andrews and Bernadette Smythe.
07 – Also last week, one of Vancouver's most famous media personalities, Vicki Gabereau, has joined forces with high school friend and Caulfeild fashionista Marilyn Diligenti to open the new VG  Shoes store. Located inside of Marilyn's boutique, the pair celebrated with a cocktail party for all the well-heeled.
– – –
By Catherine Barr – Oct 6, 2013
Also as seen in print in the North Shore Outlook Newspaper on Oct 10, 2013
– – –

– – –