When West Vancouverite Sharon Chan-Knight and her business partner Tammy Preast, of Ask a Woman Enterprises, set out to raise money for breast cancer, they never thought they'd end up here. And while these resourceful gals are no strangers to party planning (having helped plan the West Vancouver Library's annual croquet gala and more), they decided to shoot for the stars with a dual Prêt-a-Pour-Tea / Prêt-A-Pour-Nuit double bill. Last week, guests and VIPs were invited to the chic Bohemian lair of artist Pamela Masik to celebrate the fifth annual "Tea", followed by an inaugural gala evening "Nuit". Famous faces like actors Steve Bacic (Andromeda) and Erin Karpluk (Being Erica) were joined by featured speakers Brett "Dragons' Den" Wilson and rocker/cancer survivor Bif Naked. Congrats to all involved.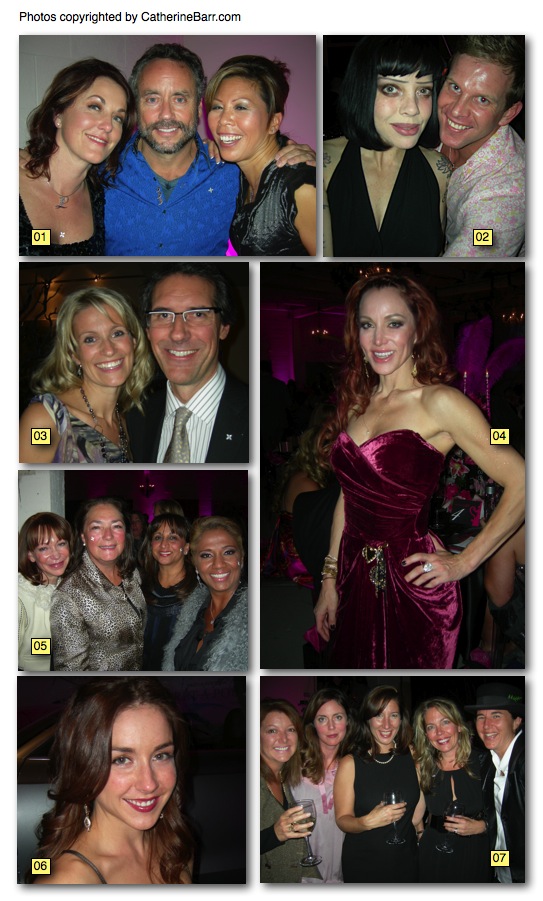 – –
01 – A dragon with his ladies – Brett Wilson, of CBC's Dragons' Den fame, gets cuddles backstage from Pret-a-Pour-Tea/Nuit hostesses and organizers Tammy Preast, left, and Sharon Chan-Knight.
02 – Seen here with hubby/sports writer Ian Walker, rocker Bif Naked's best selling song "I Love Myself Today" plays as models strut the runway for the evening's fashion show feature.
03 – West Vancouver's Leah Costello and David Rowntree add their support to the gala evening in support of breast cancer.
04 – Artist Pamela Masik's featured piece, which was created from a canvas comprised of donated photos of cancer family members and friends, is auctioned off for a whopping $32,500.
05 – Allwest Insurance North Shore gals Bonnie England, left, Nan Bennett, Yasmin Ahamed and Devina Zalesky enjoy a girls night out together.
06 – The very beautiful Erin Karpluk, star of CBC's "Being Erica" is one of many VIPs in the audience this night.
07 – Three cheers to our West Van gals for coming out to support this great cause. From left: Audra Ligumski, Melisa Keeler, Nicole Whelan, West Van Councillor Shannon Walker and Dianne Whelan.
– –
By Catherine Barr – Oct 27, 2010
Also as published in print in the North Shore Outlook on Nov 11, 2010