There is no substitute – It's one of the most famous tag lines in the world and it belongs to none other than Porsche motorcars. Known for their speed and beauty, the iconic car is driven by millionaires and famous folks alike. It seems only fitting then that MCL Motorcars (Dilawri Group) invited the who's who of Vancouver to join them for their Porsche Vancouver gala opening night. You couldn't image a more beautiful showroom. Also on display was an impressive display of cars dedicated to the 50 years of the 911. Lots of famous North Shore faces were also in the crowd to help celebrate as were several company VIPs from Germany.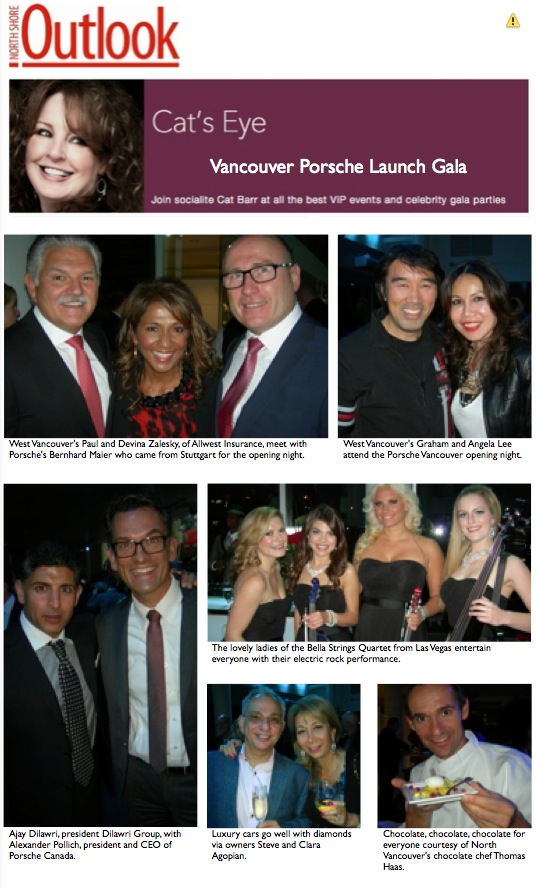 West Vancouver's Paul and Devina Zalesky, of Allwest Insurance, meet with Porsche's Bernhard Maier who came from Stuttgart for the opening night.
West Vancouver's Graham and Angela Lee attend the Porsche Vancouver opening night.
Ajay Dilawri, president Dilawri Group, with Alexander Pollich, president and CEO of Porsche Canada.
The lovely ladies of the Bella Strings Quartet from LasVegas entertain everyone with their electric rock performance.
Luxury cars go well with diamonds via owners Steve and Clara Agopian.
Chocolate, chocolate, chocolate for everyone courtesy of North Vancouver's chocolate chef Thomas Haas.
– – –
By Catherine Barr – Oct 23, 2013
Also as seen in print in the North Shore Outlook Newspaper on Oct 31, 2013
– – –

– – –