It was a pirate invasion of sorts last weekend as The 7th Annual Party at the Pier was held in North Vancouver. The Lower Lonsdale Business Association, along with sponsors Port Metro Vancouver, Seaspan, Churchill Retirement Community, CTV, The Outlook and more, put on a show for all ages. Live entertainment, food, face painting and lots of marine themed activities were on deck on this sun-filled day which has become one of the best waterfront events in the city.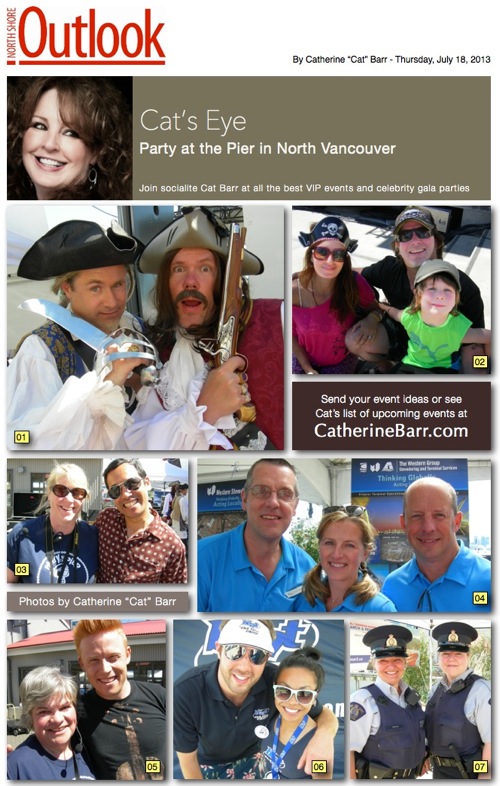 01 – Ahoy Mateys! Hosting the stage events and providing introductions for all the musical acts are Mike Cavers, left, of The Character Guys and JR FM's Nick "The Guy" Harrison.
02 – Outlook editor Justin Beddall, wife Julia and son Dante take in all the pirate action together on a perfect summer day. Hopefully he won't make me walk the plank for telling everyone they are expecting a beautiful baby girl this November.
03 – Organizer Wendy Sears chats with Rhumba Calzada's Raphael Geronimo after their high-energy performance on stage.
04 – Hanging out information about everything on the waterfront are Western Stevedoring's Dave Dunbar, left, Ilona Chapman and Dave Lucas.
05 – Susan Lewis poses with Impossible Bird performer Tyler Carson who gets ready to entertain for the audience at the main stage.
06 – They got the b-b-b-beat. Joe Hall and Sachiko Guevara, are part of The Beat 94.5's Beat Street Squad.
07 – Keeping law and order with nothing but disarming smiles, RCMP auxiliary constables Janina Santer, left, and Lynn Ogden get to patrol all of the fun.
– – –
By Catherine Barr – July 14, 2013
Also as seen in print in the North Shore Outlook Newspaper on July 18, 2013

– – –