Hollywood wasn't the only place rolling out the red carpet for Sunday night's Oscars event. The good folks at the Beach House in West Vancouver decided to put on the ritz for BC Children's Hospital Foundation at "Oscar a la Mer". This seaside celebration included champagne, theme rooms, fabulous food and lots of glitz and glamour. Guests also got a chance to cheer for their Oscar favourites as they watched the broadcast live. Afterwards, it was time to bid on some big auction items and dance the night away. Over $70,000 was raised for charity.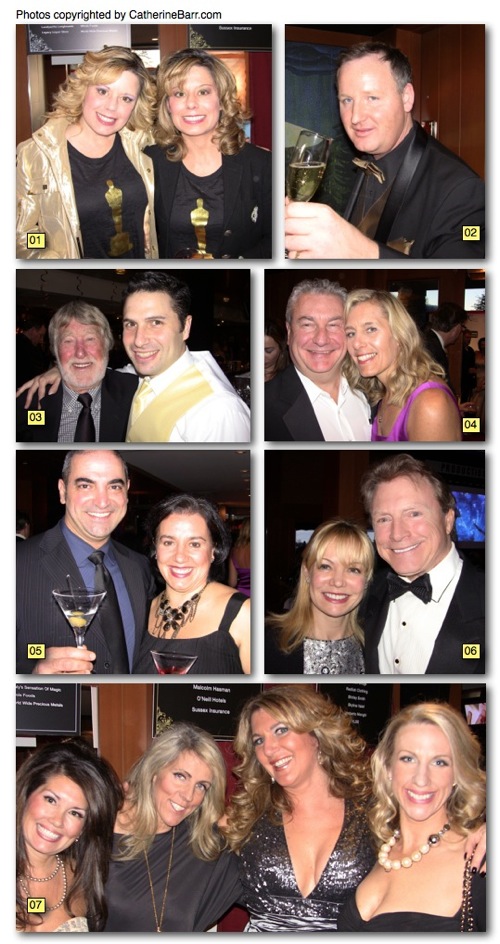 01 – The award for best sister act goes to West Vancouver blonde beauties Lori Shea and Cindy George who rocked the event in matching Oscar gold and black shirts.
02 – The best host award goes to Ken "Slappy" Swanson who looks oh so debonair in his Oscar gold vest and bow tie.
03 – Best behind the scenes award goes to Beach House partner Bus Fuller, of Earls fame, while the best bartender in a leading role goes to Andrew Argento.
04 – Taking the best smiles award for the night are West Vancouverites Ron Orr, of Granville Entertainment, and wife Val who looked especially perfect in purple.
05 – Best costume and best dressed would be easy for Gino Giragosian and his wife. As owners of Absolute Star Design diamonds and cigars in Dundarave, they know how to make everyone sparkle.
06 – Developer Doug Mason and wife Carla take the most glamorous couple award for their black tie best, including Carla's stunning silver sequins dress.
07 – The best director award was easily won by the wonderful ladies of the Oscar a la Mer committee. Looking glam from head to toe, these gals raised over $70,000 for BC Children's Hospital. Congrats MJ Thompson, Sara Dubois-Phillips, Andrea Armstrong and Pam Smith.
– – –
By Catherine Barr – Feb 17, 2012
Also as seen in print in the North Shore Outlook Newspaper on Feb 23, 2012
– – –

– – –