Whether he's shaking hands with the Rolling Stones, or shaking a martini for actress Sharon Stone, celebrity club owner and international bar expert John Green has become the latest "One to Watch" here in Vancouver.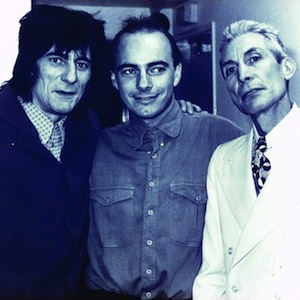 Armed with an impressive resume and a collection of celebrity photos that would make a paparazzi drool, Green has definitely earned his stripes. His reputation as a top level bar consultant is well-deserved given that he started as one of the original Tom Cruise hippy-hippy-cocktail shakers of his day.
Now, with a world of experience behind him, he's setting his sights even higher as he concocts his next move and possibly a jump to television.
And with a background that includes everything from appearances on the London stage (with actress Emma Thompson), to  his days as a semi-pro golfer, one can only wonder what Green is capable of next.
Speaking from his West Vancouver home, Green's eyes instantly light up with mischief as he talks about his many past experiences in London, California and Hong Kong. Schmoozing with the likes of Liza Minnelli and Matthew McConaughy was the norm and the Dom Perignon champagne flowed like water.
John Green entertains movie star Matthew McConaughey here in Vancouver
"It was fascinating in that they're just people," he says as he ponders all his celebrity encounters. "It was very cool because everyone just likes to hang around with the stars – and it was also good for business."
His devilish grin continues to gives him away as we pour over more photos of Green tipping tequila down the throat of billionaire Richard Branson at an exclusive private soiree.  Yet another photo shows Green at a private after-party posing nonchalantly with two of "the boys" – namely Charlie Watts and Ronnie Wood from the Rolling Stones.
Virgin billionaire Richard Branson enjoys a little tequila time with bar star John Green
The life he has lived would make for a great movie – but it's the stories he can't tell publicly that would easily fill a book.
But whether it's consulting at the Cumberland Hotel, or working with John Jarvis, chief executive officer of Hilton Hotels worldwide, Green is more than the sum of his bar flair.
As founder of Bar Biz UK, a hospitality training consultant group, Green and his partners helped open some of the most prestigious places on the planet. The China Jump Hong Kong, The Jump Kuala Lumpur and The Wall $t Supper Club in Malaysia are just a few of the establishments that he co-owned and operated. Hired to do work all over Britain, he was even contracted by Smirnoff Vodka U.K. to develop new cutting edge bar concepts never seen before. Green and his team also trained staff in Ireland, France and Australia with bartender tours in Greece and more.
Meryl Streep, Sharon Stone, Gil Bellows, Christian Slater, Saul Rubinek
Once billed as "Europe's Best Bartender" by United Distillers, Green was even featured in Cosmopolitan's U.K. magazine as "one of the most interesting people to meet in London" back in the early 90s.
So what does this leading international bar consultant think of Vancouver?
Green has some insight here too, stating that liquor law changes need to happen – and soon.
"I welcome changes to the existing liquor laws," he says. "I would love to start up a joint or two in Vancouver but the style of operations that I do would be stifled by the licensing laws currently here in British Columbia."
Needless to say, while Vancouver muddles its way through some new liquor legalese, look for this effervescent Englishman to start shaking things up just a little more than usual.
By Catherine Barr
Follow entertainment reporter and society/celebrity columnist Catherine "Cat" Barr to all the best charity gala functions and celebrity parties. She is also the editor/owner of WestVancouver.com and NorthVancouver.com which represent Canada's wealthiest communities online with over 3 million hits per month.
www.CatherineBarr.com  |  www.WestVancouver.com  |  www.NorthVancouver.com
John Green with movie star Glenn Close