The Olympic parties continue with even more famous faces coming out to play.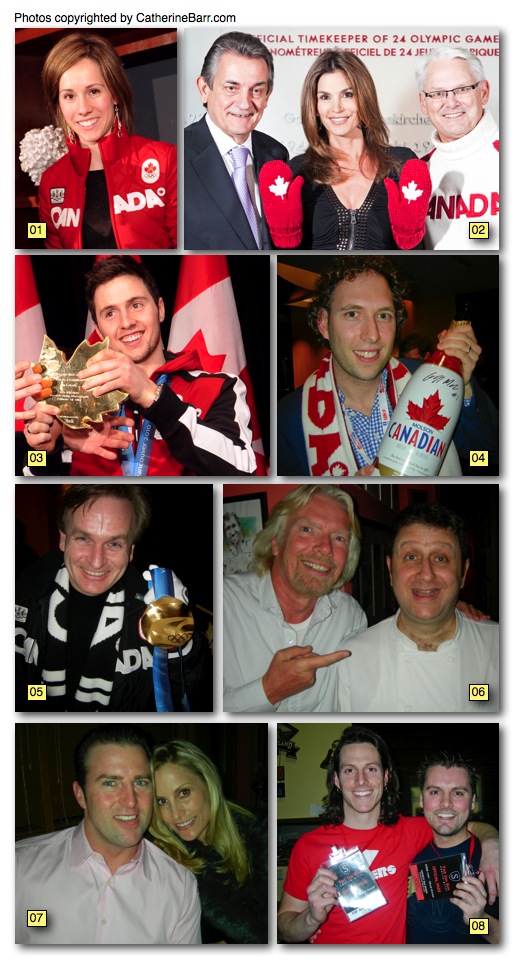 01 – Mogul skier Jenn Heil, seen here at a Birks reception party, gets Canada on the map first with a silver medal up at West Vancouver's Cypress Mountain.
02 – Supermodel Cindy Crawford, seen here with Stephen Urquhart, President of OMEGA, left, and BC Premier Gordon Campbell, plays to the crowd at the Fairmont Hotel Vancouver reception.
03 – First gold medal on Canadian soil nets mogul skier Alex Bilodeau a big gold covered maple leaf trophy from medal metals resource company Teck. The private reception included VIP gold medal guest athletes Simon Whitfield and Nancy Greene.
04 – One of Adam Moffat's main jobs is to make sure all medal winners get their Molson Canadian "champagne" magnum full of the super suds. Fun!
05 – North Vancouver MP Andrew Saxton is among the lucky guests who get to hold a gold medal at the VIP Teck medal reception. Teck supplies all the gold, silver and bronze for the Olympic medals.
06 – The North Shore's own Pino Posteraro, chef of Yaletown's Cioppino's, cooks up a storm for a very exclusive private dinner with Virgin Group billionaire Sir Richard Branson.
07 – West Vancouver and Washington Marine Group's own Kyle Washington and wife Janelle dine with both Sir Richard Branson and HSH Prince Albert of Monaco at a private dinner at Cioppino's.
08 – Mike Twining, left, and Chris Hall are hitting gold with the opening of their new Sin Bin location right next to the athletes village where they get to serve Olympic athletes, coaches and actresses like Sandra Oh.
– –
– By Catherine Barr, Feb 21, 2010
– As seen in print in the North Shore Outlook newspaper on Feb 25, 2010