All the medals have been given out and the athletes have gone home, but the memories will live on forever. The Vancouver 2010 Winter Olympics were clearly one of the best star-studded parties this town will ever see and it was wonderful to have been part of it. O Canada – thank you for making us proud.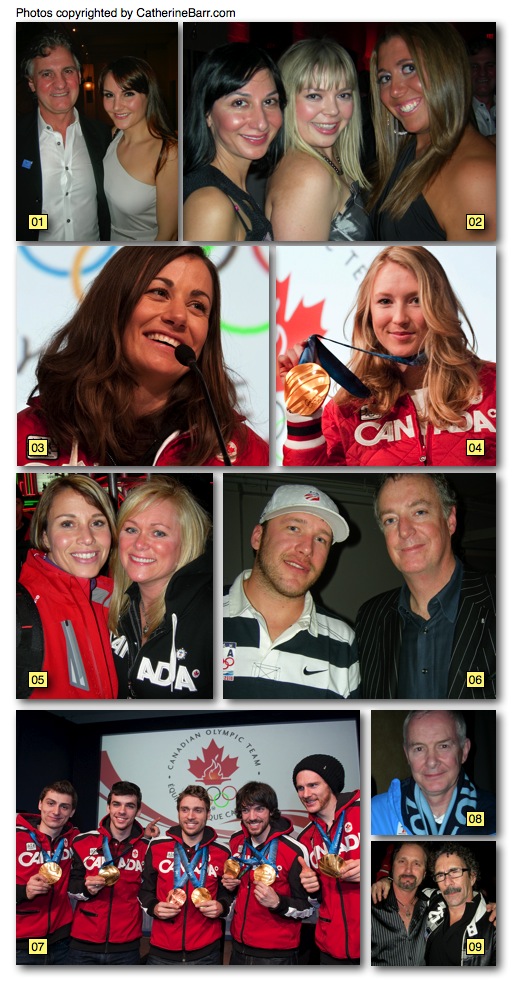 01 – West Vancouver's Don DeCotiis and daughter Marianne come out to support the Face of Tomorrow Gala which featured Canadian rapper K'Naan.
02 – Gala sponsors (and West Vancouverites) Sofia Somani, left, and Alexis Palkowski pose with Face of Tomorrow's socialite/founder Kasondra Cohen, daughter of famed Army and Navy heiress Jacqui Cohen.
03 – Robson Square was the place to be to meet athletes like North Vancouver's gold medal snowboarding gal – Maelle Ricker.
04 – Beaming in the golden afterglow of her media interviews, Whistler's Ashleigh McIvor shows off her first place prize.
05 – Former gold medal Olympic speed skater Catriona LeMay Doan, left, seen here with guest Patty Nees at the Commodore's Manitoba Social night, got a chance to re-light the flame at the Closing Ceremony after that Opening Ceremony glitch.
06 – American skier Bode Miller, left, wanted a medal in each colour – and he got all three. Seen here with Olympic party impresario Craig Stowe, he and his entourage enjoy a night off at Canvas Lounge.
07 – After a disappointing start, the Canadian men's short-track team came back with a vengeance and were more than happy to smile for the cameras at a special celebratory interview.
08 – Seen here at the Commodore's Manitoba Social night, VANOC CEO John Furlong is undoubtedly ready for a long winter's nap.
09 – Rock 101 FM's Bro Jake "The Champ" Edwards, left, welcomes celebs, athletes and VIPs like Roy Nees, to the Commodore's Manitoba Social night.
– –
By Catherine Barr – Feb 28, 2010
As seen in print in the North Shore Outlook on March 4, 2010