There's no throws, triple flips, double axels or, for that matter, falling down on your butt – but, when it comes to Olympic ice dancing there is still plenty of drama, especially in the fashion department.
– –
WEIRDEST OUTFITS EVER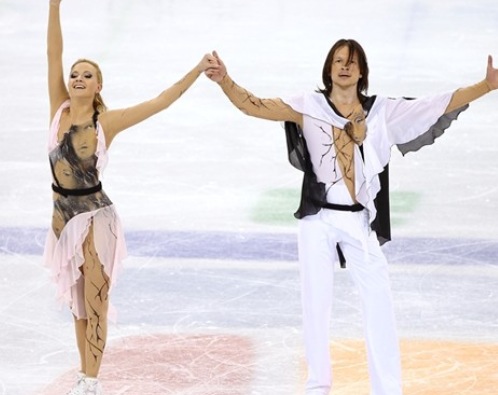 Russian bronze medal winners Oksana Domnina and Maxim Shabalin may have skated to a third place win on the podium, but their outfits were so distracting that it was hard to focus on their dance instead of their duds. Based on the film "The Double Life of Veronique", these costumes are clearly a case of schizophrenic kleenex meets Jack the Ripper. And really Oksana, could there be a worse place to put a picture of a face? From far away it just looks obscene.
– –
WORST DRESSED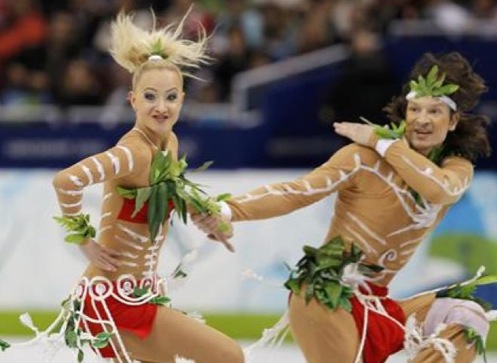 Yes, they've done it again folks. Russia's Oksana Domnina and Maxim Shabalin based their original dance program on an Australian aboriginal theme, much to the dismay of the aboriginals. Maxim's outfit was much more "tanned" in colour before being ordered to "tone it down" for Olympic reasons. My advice – get a new costume designer, quickly – your skating is too good for these kind of gimmicks.
– –
MOST FUN WITHOUT SEQUINS
Howdy partner! British figure skating team Sinead and John Kerr went for a country and western-style routine that actually had some sparkle without having the sparkle, if you know what I mean. Still, if you think that Brits are all tea and crumpets, these outfits will surely change your mind. And yes, I think that's an actual belly button you see and not that weird flesh-coloured figure skating fabric.
– –
MOST FLAMBOYANT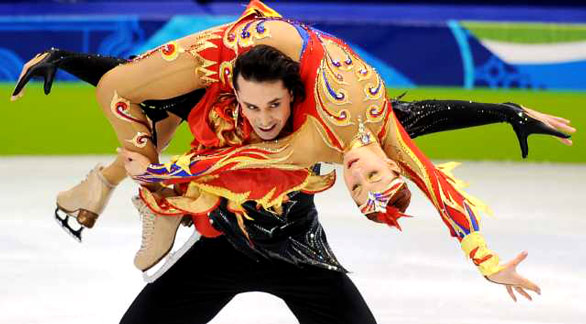 She was as flashy as her costume and he was equally commanding in his black flame suit. Russia's Jana Khokhlova and Sergei Novitski didn't skate a perfect program but their outfits helped them steal the show. Part bird, part circus performer, Jana literally flew around his head, twisting and twirling as much as the purple, yellow and red swirls of chiffon flying out behind her. Wonder if I could borrow that for the next red carpet?
– –
BEST THEMED COSTUME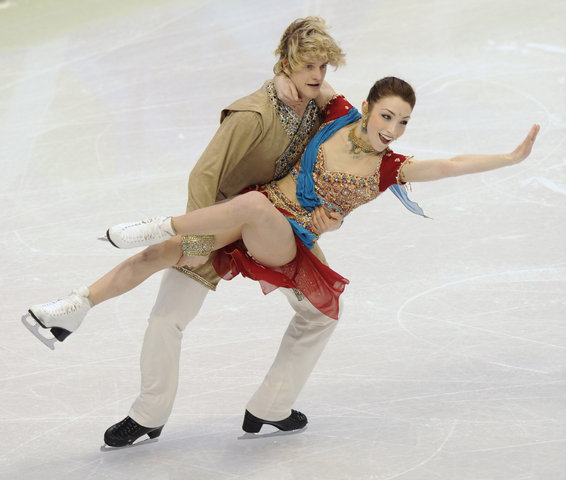 You just have to love Americans Meryl Davis and Charlie White. These silver medallists are a class act all the way from their performances on the ice, to their off ice friendship with Canadians Moir and Virtue, to their fabulous themed costumes. Borrowing on themes of a sari for their original dance, Meryl's outfit was stunning in every way and didn't look contrived in any way. Stunning and exciting!
– –
BEST OVERALL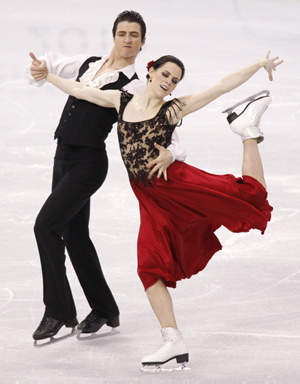 Yes, all of Canada is in love with them now and forever, and I admit that here I am biased. But how can you not love Canada's gold medal winners Tessa Virtue and Scott Moir in this Spanish inspired black, red and white combo. Elegant, simple yet fiery enough to boost their original dance into first place. I half expected Catherine Zeta-Jones and Antonio Banderas as Zorro to appear. One last thought Tessa, please stay a brunette. It completes you!
– Catherine Barr – Feb 22, 2010 –