It's been a time of Olympic celebrations as Sochi 2014 celebrates the best in winter sports and achievement. Hard to believe that it was only four short years ago that Vancouver was in the world spotlight showing off our city and its people. Reliving the moments was all part of the theme at the recent XL Leadership Summit opening night reception event. Sponsored by the TwentyTen Group, the night was filled with the who's who of Vancouver 2010 as everyone remembered the good times and laughed at the fun. The evening also marked the anniversary of the 2010 Opening Ceremonies as John Furlong took to the stage to share some rare behind-the-scenes stories. There was also a special announcement in store as TwentyTen Group founder Andrea Shaw took to the stage to say that the Olympic flame would be lit that night, and every other night, that Canadians won gold in Sochi. Go Canada!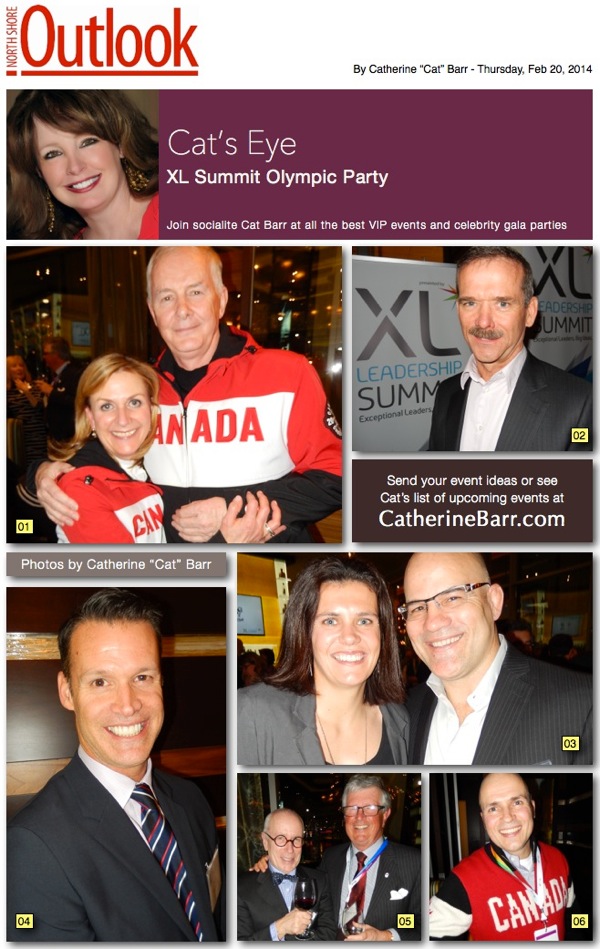 – – –
01 – TwentyTen Group founder and managing partner Andrea Shaw and VANOC CEO John Furlong take to the stage to welcome guests and share great Olympic stories with the audience.
02 – Canadian astronaut Cmdr Chris Hadfield is among the VIPs and holds the distinction of being the first Canadian to walk in space. He also made history by taking some of the first twitter photos ever posted from space.
03 – They're both tough, gutsy Canadian champions. Olympic bronze medallists Christine Sinclair (soccer) and Greg Edgelow (wrestling) share in our Canadian pride.
04 – Swimmer Mark Tewksbury is a gold, silver and bronze medallist and a member of the Canadian Sports Hall of Fame. How great to meet him in person.
05 – Laughing and swapping stories with these gentlemen is an honour. Thanks to 2010 Olympic and Paralympic Winter Games executive director and former Whistler CAO Jim Godfrey and former VANOC chairman Rusty Goepel.
06 – Acting as the evening's MC, and decked out in Olympic colours, TwentyTen Group's chief operating partner Bill Cooper takes to the mic.
– – –
By Catherine Barr – February 12, 2014
Also as seen in print in the North Shore Outlook Newspaper on Feb 20, 2014
– – –

– – –