It was a room full of champions last week as the The West Vancouver Otters Swim Club held their annual awards banquet at West Vancouver's Hollyburn Country Club. The formal night is always fun for the families and friends who get a chance to honour the kids and all of the year's achievements. This year was extra special as guest star and 2010 Winter Olympic gold medal champion Ashleigh McIvor paid a visit to sign autographs and speak to all the athletes. Keep a close watch on this gang as something tells me we just might see another future Olympian emerge in the not so distant future. Congrats to everyone involved!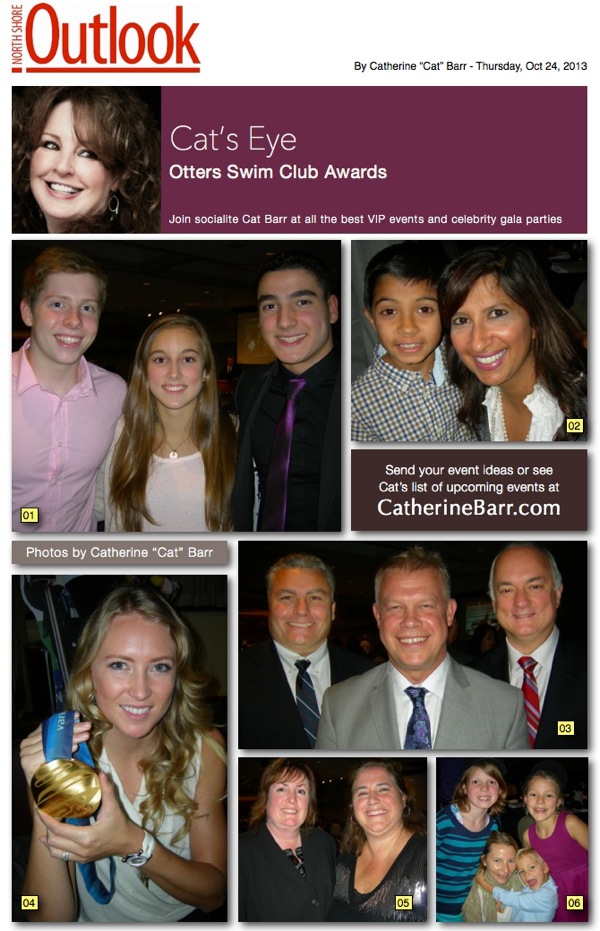 01 – Watch out for this terrific trio. West Vancouver's Emily Overholt won a bronze at this year's FINA World Junior Swimming Championships in Dubai. And Sam Tammen, left, and Levent Shah also admit they have their eyes on the podium as well.
02 – Helping out with the silent auction items, Farrah Devji is also the proud mom of super swimmer son Jayden.
03 – Holding down the executive posts this evening are Otters VP Kelly Merrigan, left, head coach Janusz Kaczmarek and past president Carman Overholt.
04 – She's our own golden girl and more. Olympic champion and retired ski cross athlete Ashleigh McIvor is all smiles as she signs autographs for the kids. Next up, she's off to Sochi for the 2014 Winter Olympics – but this time as a broadcaster.
05 – Registrar Laura Fleury, left, and president Kathryn Basran work hard all year to make sure this night is both sparkly and splashy.
06 – A night for family and friends and fun. Friend Shan Ree, left, joins Sofie Rzepinski and her mom Kathy and brother Nathan for dinner.
– – –
By Catherine Barr – Oct 15, 2013
Also as seen in print in the North Shore Outlook Newspaper on Oct 24, 2013
– – –

– – –