The Odlum Brown Vancouver Open tennis tournament was held last week at West Vancouver's Hollyburn Country Club. Often billed as a showcase of the "stars of tomorrow", this competition is anything but amateur. And while the talent on display here may be young, they all brought their A-games to the court in a series of impressive outings that any tennis fan would love. Needless to say, tournaments like this are nothing without the dedicated group of people who come into play behind the scenes. Last Tuesday, the VIP reception gave everyone a chance to mix and mingle as matches got underway on the picturesque sun filled court decks. Congrats to all involved.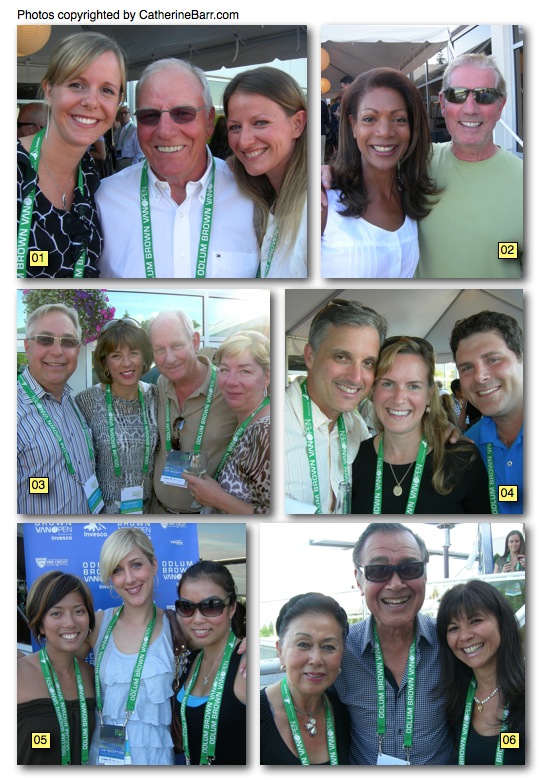 01 – Odlum Brown's Floyd Hill, who is also the tournament chair, oversees the scene alongside PR Gals Sasha Evans, left, and Che Winters.
02 – Hollyburn members and tennis fans Elandra and John Chivers are among the guests at the VIP reception.
03 – Thanks to tennis supporters Terry Hooge and wife Cheryl, left, seen here with guests Keith and Susan Wales, this tournament was a big success.
04 – Tennis BC director Luke O'Loughlin, left, Robyn Mhony and Action Athletics Todd Deacon come out to see some of the opening day action.
05 – Global BC TV personalities Sophie Lui, left, Anne Drewa and Wesla Wong watch the opening matches from the VIP boxes courtside.
06 – West Vancouver's Lee family is well known for their generosity at this and many other events. Here Lily and Robert Lee, left, cuddle with Carlota Lee who helped find billet homes for all the players.
– –
By Catherine Barr – Aug 2, 2011
Also as seen in print in the North Shore Outlook Newspaper on Aug 11, 2011