It's one of the biggest sporting events of the summer for West Vancouver. The Odlum Brown Van Open tennis tournament, presented by Invesco, took place last week at Hollyburn Country Club. And while the action on the courts is always top notch, so are the people that help put it all together. Sitting in the sun and taking in a game couldn't be better in this picturesque environment and opening night proved to be all that and more. The welcome reception, hosted by by Floyd R. Hill, was held on the patio where invited guests and VIPs got a chance to mix and mingle before heading court side for the opening ceremonies which included extra entertainment and performances. Congrats to all involved.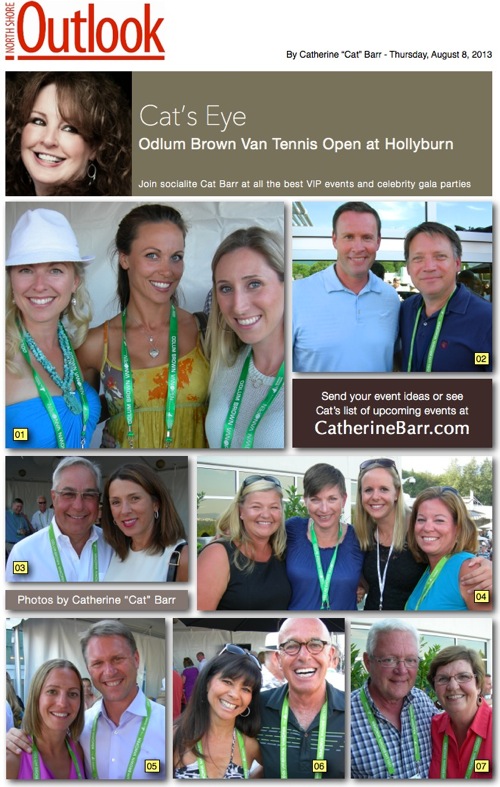 01 – Among today's VIP are guests Shelly Davis, left, Chantale Courtemanche and Bianca Lindner.
02 – CTV sports anchor Perry Solkowski, left, and cameraman Gary Rutherford get set up for a live hit directly from the courts.
03 – Working behind the scenes to help make this tournament a reality every year are Terry and Cheryl Hooge.
04 – Three cheers for these lovely ladies who help keep everything running smoothly. From left: Shelley Appleton-Benko, Marian Bayley, Sasha Evan and Cathy Greer.
05 – Hollyburn athletic director Joanne Weiler and Hollyburn Country Club CEO Ed McLaughlin help welcome guests to the party.
06 – Billet/organizer Carlota Lee and guest Dr. Michael Kates get a chance to chat during the VIP reception.
07 – Hollyburn past president Ian Petrie and wife Carolyn toast the occasion in style.
– – –
By Catherine Barr – July 30, 2013
Also as seen in print in the North Shore Outlook Newspaper on Aug 8, 2013
– – –

– – –