Spring gala events continued all over town this past week as two special events stepped up to raise money for some very worthwhile causes. First up, the Odd Squad Productions Society 2012 Gala Fundraiser was held at the Vancouver Convention Centre with a sold out crowd. Founded in 1997 by seven determined Officers of the Vancouver Police Department, the Odd Squad Productions Society (OSP) first started scaring kids straight with the debut of their award-winning "Through a Blue Lens" production. Since then, their educational videos and peer-to-peer programs have been keeping kids off the streets and out of trouble. Next up, it was time for the North Vancouver City Library "Librations" 2012 gala evening. Guests dressed in black and white formal to take part in a circus themed evening which included performances by the talented Public Dreams performance group. Congrats to everyone involved.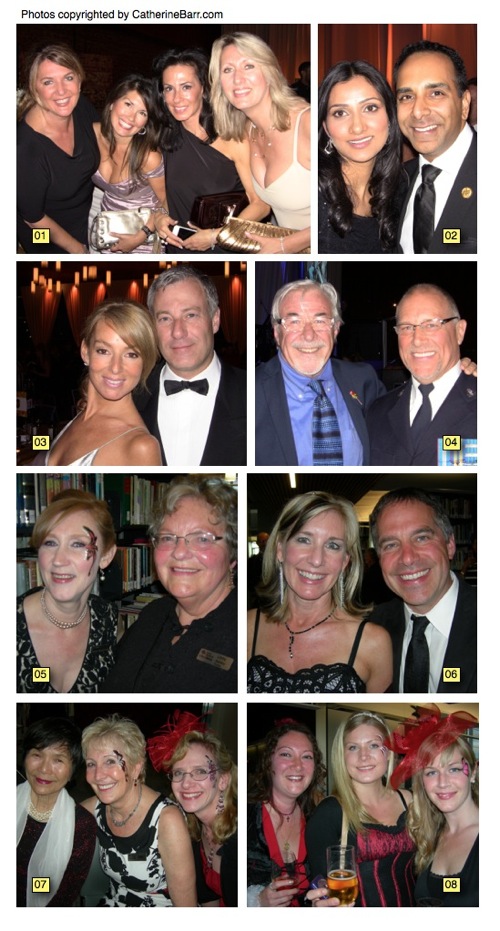 01 – Looking stunning as usual, these West Vancouver gals bring their A-game to the Odd Squad Gala evening. From left: Andrea Armstrong, MJ Thompson, Mara Uhrle and committee member Diana Zoppa.
02 – Akash Sablok does a wonderful job as MC of the Odd Squad Gala, but he was so busy he barely got a chance to sit with his beautiful wife Raj during dinner.
03 – Known for their generosity and support of many charitable organizations, Karen and Mark Wolverton lend their names to this very worthwhile cause as event chairs.
04 – Taking to the stage to perform with the Odds, musician Jim Byrnes takes a beat to pose with Odd Squad founder Al Arsenault.
05 – Librations event planner Sharon Summerfield cuddles up to Libby Kelley, vice chair of the North Vancouver City Library Board as the entertainment begins.
06 – Event chair and North Vancouver City mayor Darrell Mussatto accompanies the lovely Michelle Jankovich to the Librations event.
07 – Selling raffle tickets and more at the door are North Vancouver City Library volunteer Reiko Richardson, left, office manager Gayle Woeste and volunteer Audrey Diamond.
08 – Great books and great looks abound at the North Vancouver City Library thanks to librarian/employees like Lisa McIvor, left, Desiree Bowman and Heidi Schiller.
– – –
By Catherine Barr – June 9, 2012
Also as seen in print in the North Shore Outlook Newspaper on June 14, 2012
– – –

– – –