Summer is here which means there's lots of upcoming family festivals to fill your hot summer days and nights. Kicking things off this past weekend was North Vancouver's 6th Annual Party-at-the-Pier. Produced by the Lower Lonsdale Business Association, this event has gotten even more stylish over the years as the pier itself has continued to develop into an overall locals scene complete with new restaurants and buildings. Featuring marine-themed activities and displays, along with entertainment on the Shipbuilders' Square stage, members of the public were also treated to harbour tours and a Vessel Dedication Ceremony for the North Shore Life Boat Society. Congrats to all involved.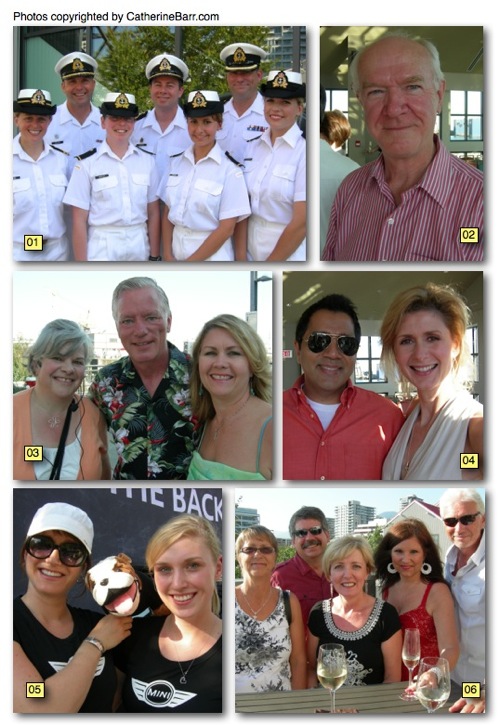 01 – Everyone loves a man, and woman, in uniform. Commander Brad Peats, left, and his crew from the Naval Officers' Training Centre were on hand to teach everyone about their Maritime Forces Pacific Orca Class Patrol Vessels.
02 – Lower Lonsdale Business Association's Doug Ausman welcomes guests to the VIP opening reception held at the new Pier 7 Restaurant. Doug is also the chairman of the event committee.
03 – Getting the last minute details organized are coordinators Susan Lewis, left, MC Kevin Hayes and RBC's Simon Doucette.
04 – Morning show host Aamer Haleem and news anchor Coleen Christie enjoy the fabulous views from North Vancouver as they represent fellow media sponsors CTV News.
05 – Setting up the "Mini" bar display are Mini-bar girls Meghan Gardiner, left, and Kayla Steinhauser.
06 – Enjoying sunshine and samples at the VIP opening reception are sponsor reps from both Neptune Bulk Terminals and Western Stevedoring. From left: Linda Benitez, Rob Brooker, Jeanette O'Brien Leanne Eshleman and Steve Varty.
– – –
By Catherine Barr – July 14, 2012
Also as seen in print in the North Shore Outlook Newspaper on July 19, 2012
– – –

– – –