It's a chic and stylish corner in an up-and-coming neighbourhood and, judging from the menu, the music and the moniker, the name of the game is success. Lolo (taken from the slang for Lower Lonsdale) is billing itself as a "small plates and wine" restaurant that offers artisan cheeses, charcuterie meats and a rather plump wine list. This week they held an elegant opening party for friends and guests. Add in the live music, sidewalk patio and lounge-y feel, and this little boite may just have hit the spot.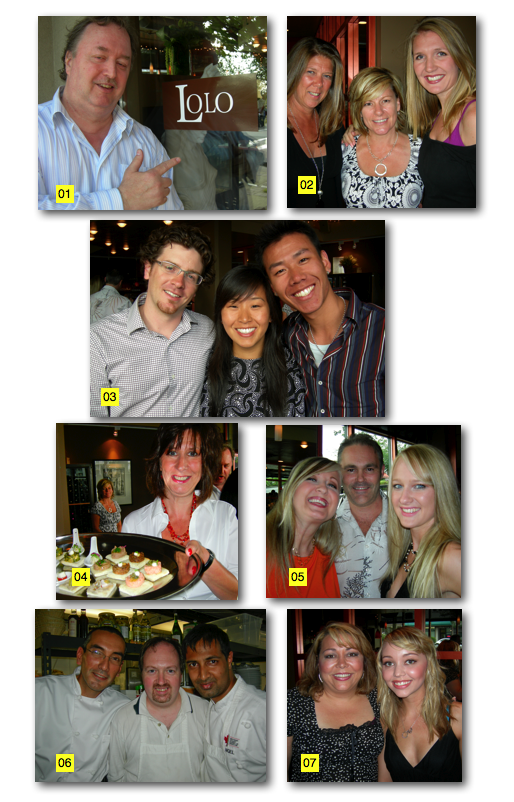 01 – Lolo manager Michael Moller is no stranger to the biz having run restaurants in both North Van and West Van to date.
02 – PR gal Catlin Landriault, centre, welcomes media personalities like KVOS TV's Dale McCarthy, left, and friend Gwen Webster to the opening night.
03 – Lolo co-owner Alison Cheung cuddles up to hubby Alex Watson, left, and brother Phillip Cheung as they serve up fine wine and cheeses.
04 – Spreads and breads are plentiful on the plates of server Sue Hunt, who splits her time between here and the North Shore Neighbourhood House.
05 – Featured twice weekly on the piano is singer Jessica Minks, right, who is thrilled to have parents Tina and Darren Hayes join her on opening night.
06 – Head chef Oscar Zaragoza, left, and assistant chefs Mike Paterson and Nigel Balgobin, create plates that beckon for a bottle of wine and a long lingering evening.
07 – Sultry songstress Kristina Helene, right, seen here with mom Carina Keagan, is a new kind of talent who brings her whole band with her on her iPod – very cool.
July 14, 2009 – published in the North Shore Outlook on July 16, 2009